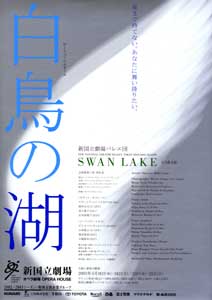 I Can't Wait until Nightfall. I Want to Fly Down to You.

A swan swoops down upon a lake, and at nightfall is transformed into a noble and beautiful woman. Through such pure and chaste imagery, Swan Lake symbolically portrays human love and mortality. The dramatic music of Tchaikovsky and masterful choreography of Petipa and Ivanov, which brought together the essence of classical ballet techniques, combined to create an enduring masterpiece that enjoys tremendous popularity throughout the world today - to the point that Swan Lake has become almost synonymous with ballet. The NNTT has adopted the Sergeyev version [of the ballet], which has been acknowledged as the standard version that transmits to the present day the quintessence of the original choreography, and this was first performed by the NNTT in 1998. Since then, Swan Lake has been performed every season, and won high acclaim for beautiful staging full of dramatic elements. In the forthcoming production, Denis Matvienko, who will be a guest dancer during the 2003-04 season, will appear in the ballet together with Natalia Ledovskaya, a top ballerina who embodies the grace and distinctive style of Russian ballet. Also, talented soloists from New National Theatre Ballet, Tokyo will enhance the beauty of the work. With each performance, Swan Lake incorporates fresh new sensibilities and never fails to deeply move the audience. It is a part of the repertoire that New National Theatre Ballet, Tokyo is proud to present to you.

Graceful Dancing Spins a Solemn Tale of Love
One night, Prince Siegfried, who has come of age, meets Princess Odette by a lake and falls in love with her. Odette has been turned into a swan by an evil magician named Rothbard, and can only be restored to human form at night. Hearing that true love alone can break the spell, the prince makes up his mind to rescue her. At a ball held the following day, however, Siegfried is deceived by the evil magician and pledges his eternal love for Rothbard's own daughter Odile, who also attended the ball. Rothbard mocks the lovers who now have no choice but to await their own destruction. The prince musters up his remaining strength to face his destiny.