---
<STAFF>

| | |
| --- | --- |
| Written by | : Betsuyaku Minoru |
| Directed by | : Sakate Yoji |
| Set Designer | : Senoo Kappa |
| Lighting Designer | : Takebayashi Isao |
| Sound Designer | : Shima Takeshi |
| Costume Designer | : Miyamoto Nobuko |
| Hairstyling and Make-up | : Hayashi Hiroko |
| Assistant Director | : Oe Sachihiko |
| Stage Manager | : Tanaka Nobuyuki |
| | |
| Artistic Director | : Kuriyama Tamiya |
| Presented by | : New National Theatre, Tokyo |
---
<CAST>

| | | | | | | |
| --- | --- | --- | --- | --- | --- | --- |
| Terashima Shinobu | | Tezuka Tooru | | Inokuma Tsunekazu* | | Fuji Sumiko |

*Chikaishi Shinsuke is unable to perform,and Inokuma Tsunekazu is taking his place. Please refer to New National Theatre News.
---
<PERFORMANCES>

April
2003
Tue.
8
Wed.
9
Thu.
10
Fri.
11
Sat.
12
Sun.
13
Mon.
14
Tue.
15
Wed.
16
Thu.
17
matinée
1:00pm
1:00pm
No
Performance
2:00pm
2:00pm
evening
7:00pm
7:00pm
7:00pm
7:00pm
7:00pm




April
2003
Fri.
18
Sat.
19
Sun.
20
Mon.
21
Tue.
22
Wed.
23
Thu.
24
Fri.
25
Sat.
26
Sun.
27
matinée
1:00pm
1:00pm
No
Performance
2:00pm
2:00pm
1:00pm
1:00pm
evening
7:00pm
7:00pm
7:00pm
7:00pm
6:00pm

Doors will open 45 minutes before the start of each performance.
---
<ADVANCE TICKETS>
Available from Tuesday 11 February, 2003 at 10:00am.
To order tickets, please call +81-3-5352-9999 (10:00am-6:00pm).
Internet ticket reservation available through the following Websites.(Japanese only)
http://t.pia.co.jp/
http://eee.eplus.co.jp/
---
<TICKET PRICES>

| | | |
| --- | --- | --- |
| Type | Seat A | Seat B |
| Price | ¥5,250 | ¥3,150 |

Seat Z(¥1,500) is sold only on the performance day at the Box Office and exclusive Ticket Pia Offices.
---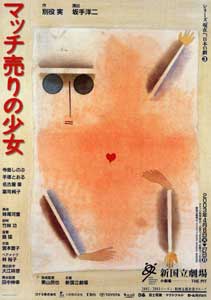 On the evening of New Year's Eve, a middle-aged married couple who had lost a child when the child was little is preparing for "evening tea." There, coming from the city hall, a woman unknown to them appears and says that she is their real daughter. She says that she once did "match sales" in which she let men strike a match and allowed them to look under her skirt briefly until the flame went out. Then her younger brother who is not supposed to even exist appears...
The third in the Series "Japanese Drama - To the Present Day" is Match Uri No Shojo (The Girl Who Sells Matches). This is indeed a masterpiece that represents the early days of Betsuyaku Minoru, the playwright who has maintained an undisputable position in contemporary drama, and that should also be described as a monumental work in postwar drama. With its tranquil and fantastic atmosphere, it is a one-act play in which the postwar history of Japan overlaps the image of Andersen's fairy tale. It has only four characters: a married couple of the lower middle class; a woman who intrudes into the home of the couple and, what is more unreasonable, persistently questions their responsibility for the past events; and a man whom she calls her brother and who is like her shadow. In the exchange of strangely poetic and humorous words, memories of the postwar chaotic society, thoughts of the humiliating past and the arrogance of human beings who live undauntedly are revealed with a cool eye.
Since its premiere at the Waseda Shogekijo (Waseda Little Theatre) in 1966, this multi-layered play of absurdity has inspired many theatrical people to perform numerous experimental undertakings. The director will be Sakade Yoji, who has gained an increasingly high reputation for his direction of works that deal with social problems. In the forthcoming production, he will focus on the concept of "distortion" that threads the play. How the actors and actresses, who play the respective characters best suited to them and are excellent in terms of both real capacity and personality, will interact with one another and express the work's distorted world will be highly interesting. A major step will be taken in the performance history of Match Uri No Shojo, which applied a scalpel of sharp criticism to its time.