SIEGFRIED "Der Ring des Nibelungen" Zweiter Tag
Music Drama in 3 Acts (Sung in German with Japanese Supertitles)
OPERA HOUSE
---
<STAFF>

Libretto and Music by
: Richard Wagner
Artistic Director
: Igarashi Kiyoshi
Conductor
: Jun Märkl
Production
: Keith Warner
Set and Costume Designer
: David Fielding
Lighting Designer
: Wolfgang Göbbel
Choreographyer
: Claire Glaskin
Advisor
: Wolfgang Wagner
Action
: Atsumi Hiroshi
Associate Conductor
: Lionel Friend
Associate Director
: Matthias von Stegmann
Stage Manager
: Sugahara Takahiro
Assistant Conductor
: Misawa Hirofumi / Joya Masahiro
Assistant Stage Director
: Sawada Yasuko / Emma Warner
Orchestra
: NHK Symphony Orchestra
Presented by
: New National Theatre, Tokyo
The Federation of Japan Opera Association
Cooperation
: Richard-Wagner-Gesellschaft Japan
Special Cooperation
: POLA COSMETICS, INC.
---
<CAST>

March-April
2003

Thursday
27

Sunday
30
Tuesday
1
Thursday
3
Saturday
5
Sunday
6
Siegfried
Christian Franz
X
X
X
X
John Treleaven
X
X
Mime
Gerhard Siegel
X
X
X
X
Uwe Eikötter
X
X
Der Wanderer
Jukka Rasilainen
X
X
X
X
Donnie Ray Albert
X
X
Alberich
Oskar Hillebrandt
X
X
X
X
Shimamura Takeo
X
X
Fafner
Hasegawa Akira
X
X
X
X
Sato Yasuhiro
X
X
Erda
Hanna Schwarz
X
X
X
X
Kuroki Kaori
X
X
Brünnhilde
Susan Bullock
X
X
X
X
Midorikawa Mari
X
X
Stimme des Waldvogels
Kikuchi Mina
X
X
X
X
X
X
---
<PERFORMANCES>

March-April
2003
Thursday
27
Sunday
30
Tuesday
1
Thursday
3
Saturday
5
Sunday
6
2:00pm
X
X
X
4:00pm
X
X
X

Doors will open 60 minutes before the opening of the performance.
Small lectures on this opera will be presented 45 minutes before the curtain time.
---
<ADVANCE TICKETS>
Available from Sunday 19 January, 2003 at 10:00am.
To order tickets, please call +81-3-5352-9999 (10:00am-6:00pm).
Internet ticket reservation available through the following Websites.(Japanese only)
http://t.pia.co.jp/
http://eee.eplus.co.jp/
---
<TICKET PRICES>

| | | | | | | |
| --- | --- | --- | --- | --- | --- | --- |
| Type | Seat S | Seat A | Seat B | Seat C | Seat D | Seat E |
| Price | ¥23,100 | ¥18,900 | ¥14,700 | ¥11,550 | ¥7,350 | ¥4,200 |

Seat Z(¥1,500) is sold only on the performance day at the Box Office and exclusive Ticket Pia Offices.
---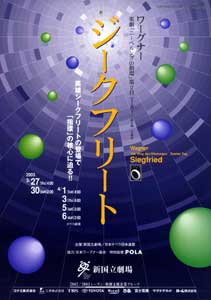 What is the Ring of the Nibelung?
- Miyake Yukio, Music Critic

The tetralogy Der Ring des Nibelungen [The Ring of the Nibelung] is a story of heavenly gods, earth-dwelling giants, and underground dwarfs, all fighting fiercely with each other over the Ring, a symbol of ruling the world. The hero Siegfried, who was to save this accursed world, is soon murdered, but through the self sacrifice of his wife Brünnhilde, fires and floods break out which ultimately result in the collapse of the old world. The theme of the "conflict between love and power", an eternal concern for humankind, can be said to run throughout this story that depicts the process of the downfall of an era. A small number of love-driven human beings are forced to make a decision when faced with this conflict, and they entertain short-lived hopes and see these hopes dashed - here lies the profound meaning of the story of the Ring.

Highlights of the NNTT's 2003 Production of Siegfried
This work is different from the preceding two parts of the tetralogy in that it has a plot like a märchen [fairy tale]. Raised by a dwarf, a young hero sets out on a journey to know what fear is, slays a dragon, and awakens a sleeping princess... The productions of the first two parts of the opera were full of quite modern and technological-related ideas, as symbolized by the projector and screen that appeared, so to speak, as a visual leitmotif. (Is the story of the Ring the memoirs of Wotan?) Therefore, the highlight of Siegfried is to see how two elements of a different nature - märchen and technology - are harmonized. Details that are dramatically and musically important are also noteworthy, such as: Siegfried's intense yearning for his mother, Mime's embarrassment when his treachery is uncovered, and the transformation of Wotan who disguises himself as the Wanderer.

Synopsis
In Act I, Siegfried, who was raised by the dwarf Mime, finds out that Mime is his foster father, and that his real father Siegmund was killed and his mother Sieglinde died while giving birth to him. Siegfried then forges a new sword from the broken Nothung, a legacy from his father. With this sword, he slays the dragon which guards the Nibelung gold in Act II, and by licking some of the dragon's blood off his hand, he acquires the ability to understand the songs of the Forest Bird. Following the counsel of the Forest Bird, Siegfried takes the Ring and the Tarnhelm, kills Mime, who had attempted to murder him, and ventures forth toward the rock where Brünnhilde lies sleeping. In Act III, after freeing himself from the Wanderer (Wotan) who had stopped him, he arrives at the rock and discovers Brünnhilde. Being in the presence of a woman for the first time, Siegfried feels fear for the first time in his life. Brünnhilde also trembles from the fear of becoming a mortal woman, but she soon accepts his love, and together the two sing, "Leucthende Liebe - Lachende Tod" [shining love - laughing death].