DANCE EXHIBITION 2003
Contemporary Dance: Dance Planet No. 12
THE PIT
---
<STAFF>

| | |
| --- | --- |
| Artistic Director | : Maki Asami |
| Production Director | : Miki Yoko |
| Stage Manager | : Okawa Hiroshi |
| Lighting | : Sugiura Hiroyuki |
| Sound Design | : Kawada Yasuo |
| Sponsored by | : Kirin Brewery Co., Ltd. |
| Presented by | : New National Theatre, Tokyo |
---
Program A

DOROBO
PROJECT FUKUROW
Choreography: Ishikawa Fukurou

the edge
aki nagatani & danscapes
Choreography: Nagatani Aki

Figninto, the torn eye
cie salia nï seydou
Choreography: Seydou Boro

Program B

Against Newton
Dance Theatre LUDENS
Choreography: Iwabuchi Takiko

4 X 4
Performance Theater MIZUTO ABURA
Choreography: MIZUTO ABURA

Figninto, the torn eye
cie salia nï seydou
Choreography: Seydou Boro
---
<PERFORMANCES>

March 2003
Program A
Program B
Friday 14
Saturday 15
Saturday 16
Sunday 17
2:00pm
X
6:00pm
X
7:00pm
X
X

The theatre opens 45 minutes before the curtain rises.
---
<ADVANCE TICKETS>
Available from Wednesday 11 December, 2002 at 10:00am.
To order tickets, please call +81-3-5352-9999 (10:00am-6:00pm).
Internet ticket reservation available through the following Websites.(Japanese only)
http://t.pia.co.jp/
http://eee.eplus.co.jp/
---
<TICKET PRICES>

| | | |
| --- | --- | --- |
| Type | Seat A | Seat B |
| Price | ¥5,250 | ¥3,150 |
---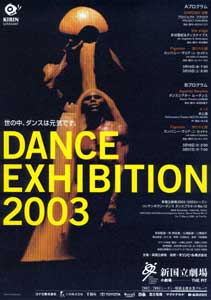 Dance Is Full of Vitality in This World.

Presently, the dancing community of Japan is filled with vitality. Fascinated with the infinite possibilities of body expression, dancers are giving a series of performances in pursuit of newer and more individualistic staging. DANCE EXHIBITION 2003 features a selection of young and creative dancers of talent who excel in these numerous performances. Together with a performance of Figninto, the torn eye by cie salia nï seydou, which attracts much public attention in Europe and will visit Japan for the first time, it is a "must see" program that gives an overview of the newest dances today and their future.
PROJECT FUKUROW
PROJECT FUKUROW is a group of dancers organized by Ishikawa Fukurou, who began creative activities after studying with Nakamura Shinji and Kawano Mako. The group is engaged in multi-faceted creative activities that freely use various means of expression, including choreography, formative arts and visual images. In 1995, it won the first prize in the category of creation in the Tokyo Shimbun National Dance Competition and in 1998 received the grand prix in the Hands Grand Prix for its stage sets. In 2000, it won the best award in the SPAC Choreography Competition sponsored by the Shizuoka Performing Arts Center. In the following year, the group presented a performance of GIGANT-A Man with an Artificial Eye at the Daendo Hall in the Shizuoka Performing Arts Park, as well as in Rome, Cairo and Paris.
aki nagatani & danscapes
Nagatani Aki began to study classical ballet at the age of four, and after graduating from Nihon University College of Art, she participated in the performances by Pappa TARAHUMARA, Kisanuki Kuniko, Yamazaki Kota, Kikuchi Junko and other dancers. In 1999, she formed the theatre company aki nagatani & danscapes, and besides her creative activities in Japan and overseas, she choreographed the performances of the theatre group Better Pause. With Tokyo, the environment that surrounds her, as her theme, she sharply expresses people living there and their relationships in her dances with speed and style. From June 1999 to October 2000, she stayed in the U.K. as one of the overseas trainees of the Agency for Cultural Affairs, and after returning to Japan, she presented a soloist performance of THE FIGHTING BEAR in Hong Kong, Melbourne, Beijing and Tokyo. She is a lecturer at the workshops at elementary schools in Tokyo and Chiba, as well as at a performing arts school in Hirosaki City, Aomori Prefecture, thereby teaching the joy of expression to various age groups.
Dance Theatre LUDENS
After completing her studies at Tokyo Gakugei University Graduate School, Iwabuchi Takiko studied at the Laban Center in London. As a dancer under exclusive contract with the Art Tower Mito's ATM Dance Company, she took part in the choreographer Herve Robbe's France tour. She also danced with the Aphasia Dance Company and later, in 1999, she formed the Dance Theatre LUDENS. She presented a series of works at the Park Tower Next Dance Festival. She meticulously directs the formation of collaborations with dancers, and as such, she is highly acclaimed as "one of the few young choreographers in Japan who have mastered contemporary dance production techniques and methodology."
Performance Theater MIZUTO ABURA
The performance theater MIZUTO ABURA was formed in 1995 by Takahashi Jun, Fujita Momoko and Onodera Shuji, who had studied mime with Sasaki Hiroyasu. In 1998, Suga Reina joined, completing the group's current quartet. Dissatisfied with traditional mime, the group has gradually departed from classical mime, and their performances have steadily gained higher praise with each presentation. In 2000, the group participated in the Avignon Festival OFF and Edinburgh Festival Fringe, and was also nominated for TOTAL THEATRE AWARD 2000. It won the best prize in the 2000 Tokyo Millennium Arts Festival for its Cellophane Singular, which received the Herald Angel Award in the Edinburgh Festival Fringe in 2001.
cie salia nï seydou
cie salia nï seydou is a dance ensemble consisting of Salia Sanou and Seydou Boro from the African country of Burkina Faso. The two dancers began their dance performances at Mathilde Monnier's National Center of Choreography in Montpelier, and they formed the ensemble after they won the first national award in the Contemporary African Dance Competition in 1995 for their Le Siècle des Fous (The Century of Madmen). Their second work Figninto-L'Oeil Troué received the freshman award in the dance category of the Radio France Internationale competition, and their tour of Africa, Europe, North America and other regions were successful. Based on the common understanding that African dance is not limited to its traditional one, they are gaining international recognition and raising the level of their artistic quality by enriching their performances through exchanges with other diverse cultures and arts. In 1999, they won the audience choice award in the Festival International de Nouvelle Dance in Montreal.