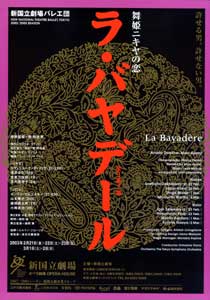 The Man Who Can Be Forgiven.
The Man Who Cannot Be Forgiven
In November 2000, the New National Theatre, Tokyo premiered its new production of this masterpiece, which is filled with overwhelming exoticism and poetic sentiment. The new production was directed by Maki Asami, Artistic Director of the NNTT's Ballet Division, based on the version revised by the director herself. Maki reasonably edited the lengthy story and paid particular attention to detailed expressions of Orientalism that characterizes the work. The new production was highly acclaimed, and there has been a strong demand for its repeat production. In the forthcoming repeat production, the first in three years, Svetlana Zakharova, who received the spotlight of attention with Swan Lake in February 2002, will appear again, in addition to the soloists of the New National Theatre Ballet who danced as Nikiya in the first performance.
La Bayadère is an outstanding work that combines delicate sentiment with the grandness of scale and which can only be seen at the NNTT. Together with the denouement of the story to which Maki added her own unique interpretations, the drama told by dancers of perfection will deeply move the audience. The splendid scenery, which fascinated the audience at the premiere, can be of powerful appeal to the audience only if actually experienced at the Opera House. With the NNTT's original version of La Bayadère, enjoy to the fullest the charm of grand ballet - the luxury of being present at the theatre to see, listen and feel.

Synopsis
A bayadère (temple dancer) to an Indian temple, Nikiya is an innocent and beautiful girl. She is in love with Solor, a young captain serving the Rajah (king). The High Brahmin (high priest), who is also in love with Nikiya, is seeking a chance to make her his own possession.
Meanwhile, the Rajah's daughter Gamzatti, who has loved Solor ever since she saw him for the first time, wishes to marry Solor to whom her father has decided to marry her.
Introduced to Gamzatti at the Rajah's palace, Solor is fascinated by her beauty as well and consents to marrying her because, given his position as the Rajah's soldier, he cannot disobey the order.
When Nikiya learns that Solor is to marry Gamzatti, Nikiya is bitten by a poisonous snake sent by Gamzatti and the Rajah and chooses to die and pushes away the High Brahmin, who offers a cure for the poison. Solor, who reproaches himself in repentance and despair, meets Nikiya again in a hallucination, but awakened from the dream, he goes to the temple in search of Nikiya, only to find that Gamzatti, the Rajah and the High Brahmin are waiting for him as the wedding ceremony starts...