---
<STAFF>

| | |
| --- | --- |
| Written by | : Miyoshi Juro |
| Directed by | : Kuriyama Tamiya |
| Set Designer | : Shima Jiro |
| Lighting Designer | : Katsushiba Jiro |
| Sound Designer | : Saito Misao |
| Costume Designer | : Miyamoto Nobuko |
| Dialect Coach | : Ohara Joko |
| Assistant Director | : Toyota Megumi |
| Stage Manager | : Kato Takashi |
| | |
| Artistic Director | : Kuriyama Tamiya |
| Presented by | : New National Theatre, Tokyo |
---
<CAST>

| | | | | | | |
| --- | --- | --- | --- | --- | --- | --- |
| Namase Katsuhisa | | Nanase Natsumi | | Sasaki Ai | | Hasegawa Kiyo |
| Kitamura Yukiya | | Otaka Akira | | Ishida Keisuke | | Nasu Sayoko |
| Yoshimura Sunao | | Asano Masahiro | | Hanamura Sayaka | | Kobayashi Asako |
| Nagahata Hiroshi | | Otsu Hiroki | | Yamanaka Mayu | | Shimosato Shoko |
---
<PERFORMANCES>

February
2003
Wed.
19
Thu.
20
Fri.
21
Sat.
22
Sun.
23
Mon.
24
Tue.
25
Wed.
26
Thu.
27
matinée
1:00pm
1:00pm
No
Performance
1:00pm
1:00pm
Reserved
evening
6:30pm
6:30pm
6:30pm
6:00pm
6:30pm
6:30pm




February
-March
2003
Fri.
28
Sat.
1
Sun.
2
Mon.
3
Tue.
4
Wed.
5
Thu.
6
Fri.
7
matinée
1:00pm
1:00pm
No
Performance
1:00pm
1:00pm
evening
6:30pm
6:00pm
6:30pm
6:30pm
6:30pm

Doors will open 45 minutes before the start of each performance.
---
<ADVANCE TICKETS>
Available from Sunday 15 December, 2002 at 10:00am.
To order tickets, please call +81-3-5352-9999 (10:00am-6:00pm).
Internet ticket reservation available through the following Websites.(Japanese only)
http://t.pia.co.jp/
http://eee.eplus.co.jp/
---
<TICKET PRICES>

| | | |
| --- | --- | --- |
| Type | Seat A | Seat B |
| Price | ¥5,250 | ¥3,150 |

Seat Z(¥1,500) is sold only on the performance day at the Box Office and exclusive Ticket Pia Offices.
---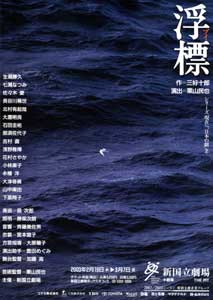 New National Theatre Tokyo's Series "Japanese Drama - To the Present Day" sheds light on the theatrical heritages, which have been handed down from modern to contemporary Japan, from the present day's perspective. The second play in the series is Buoy, which was premiered in 1940.
Miyoshi Juro (1902-1958), the author of this play, is a playwright who lived from prewar through postwar days and wrote a large number of plays while struggling with the times and with his own self. He began his literary career by writing proletarian plays, and then devoted his life to vividly portraying the sentiments of common people living at the bottom of the social scale, questioning as an intellectual the meaning of life in the confused and unstable society and constantly inquiring into the existence of Japanese people to sublimate his quest into playwriting.
The author, who successively lost emotional supports, with a departure from the ideologies he had believed in and the death of his beloved wife, completed the play Buoy by facing his own mind bravely. This play is highly rated as the culmination of his prewar accomplishments. With the worsening Japanese-Chinese war as the background, the sincere attitudes of the artist and his wife are depicted. Fighting to protect the dignity of art and human beings, the hero Kuga Goro is a reflection of Miyoshi himself, and many other characters borrowed from reality, including Miyoshi's wife, Misao, who died from tuberculosis, are arranged in the play. As art, ideologies, life and all other supports are being taken away, Goro reaches the stage of rebirth after overcoming spiritual conflicts. It is reported that at the premiere, as Goro praised life and love at the top of his voice, a dead silence momentarily fell over the audience, followed immediately by a surge of commotion, tears and excitement.
The stage director will be Kuriyama Tamiya, the artistic director for the Drama Division of the NNTT, who will put his long-cherished passion for this play into this production. The play is called a "phantom masterpiece" since it has been given few opportunities of being put on stage in the past, but attention is focused on how the stage direction by Kuriyama, who says with enthusiasm that he recognizes the unfailing power of drama and that he is determined to face the work squarely, will bring out the power of the "drama of words." Buoy will be meticulously produced by bringing together a cast of talented actors and actresses, including Ikuse Katsuhisa, a young actor who takes on the challenge of playing the difficult role of Goro, which has hitherto been performed by Maruyama Sadao and other distinguished actors. The beauty of the human mind will come home to audiences and impress them.

Synopsis
The setting is a house on a coast in the suburb of Chiba City at the end of summer. Kuga Goro, an artist of Western painting, believes in his own art and is struggling with poverty while caring for his wife Mio, who is suffering from pulmonary tuberculosis. In the midst of adversities, such as being rejected by low-grade painters and being urged by his family members to transfer his property to them, his wife§fs illness gradually worsens. Several days after his close friend on his way to the battlefront called on him, Mio§fs condition suddenly changes for the worse despite his devoted efforts. At her bedside, Goro desperately reads songs from Manyoshu, the earliest extant collection of Japanese poetry.