The New National Theatre Tokyo The Pit Opera #9

Frantz Joseph Haydn: L'Isola Disabitata
Opera in 2 Acts (Sung in Italian with Japanese Supertitles)
THE PIT
---
<STAFF>

| | |
| --- | --- |
| Conductor | : Yamagami Junji |
| Stage Director | : Ihara Hiroki |
| | |
| Artistic Director | : Igarashi Kiyoshi |
| Libretto by | : Pietro Metastasio |
| Music by | : Franz Joseph Haydn |
| Scenery | : Yuri Mastromattei |
| Costume Designer | : Handa Etsuko |
| Lighting Designer | : Haranaka Harumi |
| Stage Manager | : Onita Masahiko |
| Orchestra | : New National Theatre The Pit Opera Ensemble |
---
<CAST>

January 2003

Thursday
23

Friday
24
Saturday
25
Sunday
26
Costanza
Obata Akemi
X
X
Nakamura Harumi
X
X
Silvia
Matsuo Kayoko
X
X
Morita Hiroko
X
X
Gernando
Takano Jiro
X
X
Okamoto Yasuhiro
X
X
Enrico
Kanomata Tooru
X
X
Sano Masakazu
X
X
---
<PERFORMANCES>

| | | | | |
| --- | --- | --- | --- | --- |
| January 2003 | Thursday 23 | Friday 24 | Saturday 25 | Sunday 26 |
| 3:00pm | | | X | X |
| 7:00pm | X | X | | |
---
<ADVANCE TICKETS>
Available from Sunday 17 November, 2002 at 10:00am.
To order tickets, please call +81-3-5352-9999 (10:00am-6:00pm).
Internet ticket reservation available through the following Website.(Japanese only)
http://t.pia.co.jp/
---
<TICKET PRICES>
All Seats Reserved: ¥4,200
Seat Z(¥1,500) is sold only on the performance day at the Box Office and exclusive Ticket Pia Offices.
---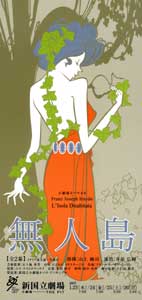 Explanation
An opera by Joseph Haydn (1732-1809) is to be staged at The Pit for the first time. As his nickname "Papa Haydn" suggests, high-quality humor and humane warmth are felt in his works, which were written with refined compositional techniques, and even today, his symphonies, string quartets and other works are frequently performed. Although he wrote important works in the area of operas, including Lo Speziale (The Pharmacist) and Il Mondo della Luna (The World of the Moon), these have been given few opportunities of being put on the stage. L'Isola Disabitata (The Uninhabited Island), which will be produced by the NNTT this time, was premiered in 1779. The opera has only four characters, and the chorus is excluded, and the music is played by a small orchestra. The focal point of this opera is Haydn's mastery skills in making the most of such a simple structure.

Synopsis
The setting is an uninhabited island in the Atlantic Ocean. On an island in which Costanza and her husband Gernando visited during their honeymoon, Costanza gets separated from her husband. Actually, when Gernando left her side for a brief moment, he was captured and turned into a slave by pirates, but Costanza, knowing nothing of this and unable to do anything about her situation, lives with her younger sister Silvia on the island for several years. One day, Gernando, freed from slavery, and Enrico, who was his fellow slave, visit the island to search for Costanza. By chance Enrico meets Silvia and finds out that she is the younger sister of Costanza and that the latter is alive and well. At first, due to misunderstandings, there are emotional conflicts between Costanza and Gernando, but they are eventually reunited for the first time in several years, and Enrico and Silvia are also united in marriage.