Verdi: IL TROVATORE
Opera in 4 Acts (Sung in Italian with Japanese Supertitles)
OPERA HOUSE
---
<STAFF>

| | |
| --- | --- |
| Original by | : Antonio García Gutiérrez |
| Libretto by | : Salvatore Cammarano |
| Music by | : Giuseppe Verdi |
| | |
| Artistic Director | : Igarashi Kiyoshi |
| Conductor | : Giuliano Carella |
| Stage Director | : Alberto Fassini |
| Chorus Master | : Misawa Hirofumi |
| Choreographer | : Marta Ferri |
| Set & Costume Designer | : William Orlandi |
| Lighting Designer | : Isono Mutsumi |
| Stage Manager | : Ohnita Masahiko |
| Assistant Conductors | : Sato Hiroshi / Ozawa Kazuya / Matsushita Kyosuke |
| Assistant Stage Directors | : Joseph Lee / Taguchi Michiko / Sawada Yasuko |
| Assistant to Choreographer | : Ito Noriko |
| Chorus | : New National Theatre Chorus / Fujiwara Chorus Group |
| Orchestra | : Tokyo Philharmonic Orchestra |
| | |
| Presented by | : New National Theatre, Tokyo |
---
<CAST>

November-December 2002

Thursday
21

Saturday
23
Sunday
24
Saturday
30
Sunday
1
Leonora
Norma Fantini
X
X
X
Amarilli Nizza
X
X
Manrico
Lando Bartolini
X
X
X
Antonino Interisano
X
X
Il Conte di Luna
Horiuchi Yasuo
X
X
X
Tani Tomohiro
X
X
Azucena
Barbara Dever
X
X
X
Anna Maria Chiuri
X
X
Ferrando
Tsumaya Hidekazu
X
X
X
Kang-Liang Peng
X
X
Ines
Kano Satomi
X
X
X
Akiyama Yukimi
X
X
Ruiz
Chubachi Satoshi
X
X
X
Higuchi Tatsuya
X
X
Un veccio zingaro
Tang Jun Bo
X
X
X
X
X
Un messo
Watanabe Fumitoshi
X
X
X
X
X
---
<PERFORMANCES>

November
-December 2002
Thursday
21
Saturday
23
Sunday
24
Saturday
30
Sunday
1
3:00pm
X
X
X
X
6:30pm
X

Doors will open 60 minutes before the opening of the performance.
Small lectures on this opera will be presented 45 minutes before the curtain time.
---
<ADVANCE TICKETS>
Available from Saturday 22 September, 2002 at 10:00am.
To order tickets, please call +81-3-5352-9999 (10:00am-6:00pm).
Internet ticket reservation available through the following Websites.(Japanese only)
http://t.pia.co.jp/
http://eee.eplus.co.jp/
---
<TICKET PRICES>

| | | | | | | |
| --- | --- | --- | --- | --- | --- | --- |
| Type | Seat S | Seat A | Seat B | Seat C | Seat D | Seat E |
| Price | ¥18,900 | ¥15,750 | ¥12,600 | ¥9,450 | ¥6,300 | ¥3,150 |

Seat Z(¥1,500) is sold only on the performance day at the Box Office and exclusive Ticket Pia Offices.
---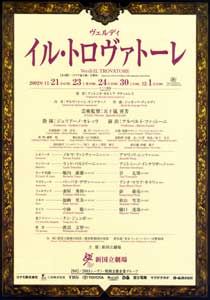 Depicting the Love and Hatred of Two Brothers Separated by Fate and the Pure Love of One Woman in Spain

Of Verdi's three masterpieces - Rigoletto, Il Trovatore and La Traviata - in his middle period, Il Trovatore is unsurpassed for prodigality of melody. In addition, contrasting melodies create dramatic excitement, making it one of the most opera-like of Verdi's works. A variegated, bold drama, including the fatal confrontation between Count di Luna and his younger brother Manrico over the beautiful lady Leonora, as well as the vengeance and remorse of the old gipsy woman Azucena, unfolds, giving the most luxurious feast to the ears and eyes.

Synopsis
Spain in the 15th century. Count di Luna is in love with the beautiful lady-in-waiting Leonora, but she loves Manrico, who also loves her. One day, Manrico is told by his mother Azucena the secret concerning his birth and begins to wonder who he really is. He is then informed that Leonora, believing the news that Manrico was killed in a battle, is about to enter a convent and rushes away to prevent her. The Count, too, goes to the convent to try to change her mind but she is rescued by Manrico and his followers, who have rushed to the site. The angry Count captures Azucena to lure Manrico out. Manrico, who has come to his mother's rescue, is captured and imprisoned together with her. Leonora calls on the Count and earnestly begs him to release Manrico, offering herself in exchange, then kills herself by taking poison. Infuriated by Leonora's trick, the Count immediately orders Manrico's execution. Azucena shrieks, "He was your brother! You are avenged, O mother!" Then she falls lifeless. The Count stands speechless.