Rossini:IL BARBIERE DI SIVIGLIA
Opera in 2 parts in Italian with Japanese supertitles
OPERA HOUSE

The 57th Arts Festival sponsored by Agency for Cultural Affairs
---
<STAFF>

Original by
: Pierre-Augustin Caron de Beaumarchais
Libretto by
: Cesare Strevini
The Critical Edition edited by Alberto Zedda (1969), RICORDI
Music by
: Giachino Rossini
Artistic Director
: Igarashi Kiyoshi
Conductor
: Antonio Pirolli
Production
: Aguni Jun
Chorus Master
: Misawa Hirofumi
Set Designer
: Kawaguchi Naoji
Costume Designer
: Pasquale Grossi
Lighting Designer
: Okuhata Yasuo
Stage Manager
: Saito Miho
Assistant Conductors
: Abe Katsuhiko / Matsushita Kyosuke / Nakahashi Kentarouzaemon
Assistant Stage Director
: Hisatsune Hidenori
Chorus
: New National Theatre Chorus
Orchestra
: Tokyo Philharmonic Orchestra
Presented by
: Agency for Cultural Affairs / New National Theatre, Tokyo
---
<CAST>

October-November 2002
Thursday
31
Saturday
2
Sunday
3
Saturday
9
Sunday
10
Il Conte d'Almaviva
Antonino Siragusa
X
X
X***
X
Giovanni Botta*
X**
Rosina
Joyce DiDonato
X
X
X
Paola Antonucci
X
X
Bartolo
Bruno Praticó
X
X
X
Kubota Masumi
X
X
Figaro
Roberto de Candia
X
X
X
Alessandro Battiato
X
X
Don Basilio
Francesco Ellero d'Artegna
X
X
X
Ikeda Naoki
X
X
Berta
Motomiya Hiroko
X
X
X
Kori Aiko
X
X
Fiorello
Matsumura Ken
X
X
X
Chubachi Satoshi
X
X
Un Ufficiate
Hasegawa Kan
X
X
X
Tajima Tatsuya
X
X


*Marco Ferrato, who was originally to perform the role of Il Conte d'Almaviva on 2nd(Sat.) and 9th (Sat.) November, is unable to perform due to his condition. Alternatively, Giovanni Botta is taking his place.
Please refer to New National Theatre News.
**As for the performance of 2nd (Sat.), Giovanni Botta sang Il Conte d'Almaviva only during Act 1 because of his illness, and Antonino Siragusa performed the role after Act 2.
***Giovanni Botta, who was originally to perform the role of Il Conte d'Almaviva on 9th(Sat.) November, is unable to perform due to his condition. Alternatively, Antonino Siragusa is taking his place.
Please refer to New National Theatre News.
---
<PERFORMANCES>

October-November 2002

Thursday
31

Saturday
2
Sunday
3
Saturday
9
Sunday
10
3:00pm
X
X
X
X
6:30pm
X

Doors will open 60 minutes before the opening of the performance.
Small lectures on this opera will be presented 45 minutes before the curtain time.
---
<ADVANCE TICKETS>
Available from Sunday 8 September, 2002 at 10:00am.
To order tickets, please call +81-3-5352-9999 (10:00am-6:00pm).
Internet ticket reservation available through the following Websites.(Japanese only)
http://t.pia.co.jp/
http://eee.eplus.co.jp/
---
<TICKET PRICES>

| | | | | | | | |
| --- | --- | --- | --- | --- | --- | --- | --- |
| Type | Seat S | Seat A | Seat B | Seat C | Seat D | Seat E | Seat Z |
| Price | ¥18,900 | ¥15,750 | ¥12,600 | ¥9,450 | ¥6,300 | ¥3,150 | ¥1,500 |

Seat Z and Student Ticket(50% discount) are sold only on the performance day at the Box Office and exclusive Ticket Pia Offices. (Telephone reservation not available.)
---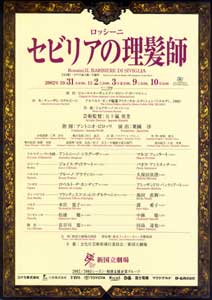 This Opera Will Give You a Good Feeling.

Pleasant music full of speed will fascinate you. It is now autumn. Why don't you enjoy a comfortable motor ride in the refreshing winds with the jolly fellow Figaro as your driver? Barbiere di Siviglia is one of the most famous operas by Rossini and one of the greatest masterpieces of opera buffa. Why don't you raise your spirits with the Rossini crescendo under the high-speed baton of Pirolli. A superb roster of singers has been arranged for the forthcoming production.

Synopsis
The setting is Seville. Count Almaviva, who is captivated at first glance by Rosina, the most beautiful girl in town, masquerades as Lindoro, a poor student, and is singing a serenade in front of the house where she lives in order to express his love for her. Figaro, a barber and general factotum, who happens to pass him by, promises to help him in his courtship. In Rosina's house is her guardian Bartolo, who aims at her fortune, and he does not allow Rosina to go out unless for some exceptional reason. Thanks to Figaro's quick wit, the Count, disguised as an army officer, gains entry into Bartolo's house, but real officers and soldiers arrive there, throwing the house into a state of uncontrollable confusion. Then Almaviva, now disguised as a representative of Basilio, visits the house again and is trying to persuade her to run away with him when the real Basilio appears, frustrating his plan. Meanwhile, Bartolo, who wants to get married quickly, shows her a forged letter, telling her that Lindoro intends to sell her off to the Count. The disheartened Rosina finally agrees to marry Bartolo. On a stormy night, Figaro and the Count successfully steel their way from the balcony into Rosina's house, and the Count identifies himself and proposes marriage to her. The misunderstanding on her part is removed and she accepts his proposal. Bartolo unwillingly agrees to her marriage with the Count on condition that he shall have a share in her fortune, so his watch over her turns out to be inutile as the subtitle suggests, but the curtain closes with everyone feeling happy.