- Music from Asia - International Performing Arts Festival
Benjamin Britten: THE TURN OF THE SCREW
Opera in 2 Acts (Sung in English with Japanese Supertitles)
THE PIT
---
<STAFF>

Conductor
: Matsuoka Hakaru
Stage Director
: Hirao Rikiya
Artistic Director
: Igarashi Kiyoshi
Original by
: Henry James
Libretto by
: Myfanwy Piper
Music by
: Benjamin Britten
Scenery
: Kobayashi Yujin
Costume Designer
: Watanabe Sonoko
Lighting Designer
: Nakagawa Yasutaka
Stage Manager
: Osawa Hiroshi / Ikeda Masanobu
Orchestra
: New National Theatre The Pit Opera Ensemble
Staged by
: New National Theatre, Tokyo
Presented by
: Agency for Cultural Affairs /
Executive Committee for International Performing Arts Festival
---
<CAST>

September 2002

Saturday
28

Sunday
29
The Governess
Endo Kumiko
X
Yamamoto Miki
X
Mrs. Groce,
the housekeeper
Kano Satomi
X
X
Flora
Unoki Eri
X
Morita Hiroko
X
Miles
Sugita Miki
X
Meda Makiko
X
Miss Jessel, the former governess
Etsuda Hiroko
X
X
The Prologue / Quint, the former manservant
Takano Jiro
X
X
---
<PERFORMANCES>

| | | |
| --- | --- | --- |
| September 2002 | Saturday 28 | Sunday 29 |
| 3:00pm | X | X |
---
<ADVANCE TICKETS>
Available from Sunday 1 September, 2002 at 10:00am.
To order tickets, please call +81-3-5352-9999 (10:00am-6:00pm).
Internet ticket reservation available through the following Website.(Japanese only)
http://t.pia.co.jp/
---
<TICKET PRICES>
All Seats Reserved: ¥3,800
Seat Z(¥1,500) is sold only on the performance day at the Box Office and exclusive Ticket Pia Offices.
---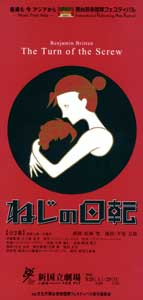 Explanatory Notes
The New National Theatre Tokyo (NNTT) will stageThe Turn of the Screw by Benjamin Britten (1913-1976), whose 25th anniversary of his death came last year. This is a small-scale chamber opera, with a rather suggestive title, which consists of six characters who appear on stage, 13 members in the orchestra, and a conductor, for a total of only 20 persons. It is comprised of 16 scenes in two acts and the music that connects the scenes is written in the elaborate style of a theme and variations. Once a screw begins to turn it can only turn in one direction, and like the "turn of a screw" once the troubles of this production's extremely egoistic adults-who are attempting to control the feelings of two children-begin to unfold around their unusual human relationships, events head toward a tragic end.

Synopsis
The governess, who is engaged by the guardian of two children-Miles and his younger sister Flora-to assume complete responsibility for them in return for extraordinary treatment, arrives at their house with a deep sense of anxiety. Greeted by Mrs. Grose, the housekeeper,and the well-disciplined Miles and Flora, the governess feels that things will turn out all right but the situation soon changes with the appearance of a ghost, the former manservant Quint. Quint, who doted upon Miles and also had a relationship with the previous governess, Miss Jessel, died from a sudden accident. It is discovered that Miss Jessel committed suicide immediately after Quint's death. Before long, the ghost of Miss Jessel also appears, and the four adults-the two who live in this world and the other two from the other world-start to fight over the children. The ghosts entice Miles and Flora whereas the two living adults are strict with the children, prompting their hearts to lean toward the ghosts. In the last scene, the governess presses Miles hard with solicitous questions, desperately trying to awaken him. Finally, Miles screams, "Quint, you devil!" and collapses into the arms of the governess.