Raj Packet II
Contemporary Dance: Dance Theatron No. 8
Playhouse
---
<STAFF>

| | |
| --- | --- |
| Choreography and Production Designs | : Teshigawara Saburo |
| Artistic Director | : Maki Asami |
| Production Director | : Miki Yoko |
| Music Compilation | : Miyata Kei / Teshigawara Saburo |
| Sound Design | : Willi Bopp |
| Associate Lighting Designer | : Shimizu Hiroki (HALO) |
| Stage Manager | : Asaka Toru |
| Technical Coordinator | : Ito Shun (KARAS) |
| | |
| Sponsored by | : Kirin Brewery Co., Ltd. |
| Presented by | : New National Theatre, Tokyo |
---
<CAST>
Dancers: Teshigawara Saburo and KARAS
Miyata Kei / Sato Rihoko / Ito Shun / Kawamura Mie / Yoshida Azusa /
Doi Yukiko / Jiifu / Omizo Chiaki
Jacopo Godani / Isabelle Chaffaud / Grant Aris / Ravi Deepres / Christophe Dozzi
Kosako Yoshinari / KARAS Workshop Members
Live Band: SAND
Hilary Jeffery (Trombone) / Tim Wright (Electronics) / Neil Griffiths (Electric Guitar)
Neil Spragg (Drums) / John Richards (Bass) /
---
<PERFORMANCES>

| | | |
| --- | --- | --- |
| December, 2002 | Saturday 14 | Sunday 15 |
| 2:00pm | | X |
| 6:00pm | X | |

The theatre opens 60 minutes before the curtain rises.
---
<ADVANCE TICKETS>
Available from Wednesday 18 September, 2002 at 10:00am.
To order tickets, please call +81-3-5352-9999 (10:00am-6:00pm).
Internet ticket reservation available through the following Websites.(Japanese only)
http://t.pia.co.jp/
http://eee.eplus.co.jp/
---
<TICKET PRICES>

| | | | |
| --- | --- | --- | --- |
| Type | Seat S | Seat A | Seat B |
| Price | ¥5,250 | ¥4,200 | ¥3,150 |

Seat Z(¥1,500) is sold only on the performance day at the Box Office and exclusive Ticket Pia Offices.
---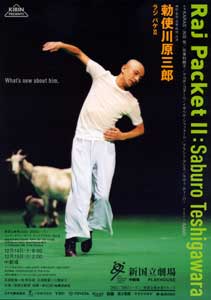 Raj Packet Evolves
In December 2000, a shocking performance was staged at the New National Theatre, Tokyo. Lights, sounds and vibrations appeared one after another. And human beings, things and animals interacted, responded, ran away and passed by. Something appeared and disappeared. And then came the moment of supreme bliss. Teshigawara Saburo, who attracts public attention worldwide, will come back to the stage of the NNTT again. Inviting dancers and musicians from Europe, he will take on the challenge of creating "Paj Packet II" based on the legendary first "Raj Packet". Artists will meet here and creation will start here. Something new will occur here again.
Teshigawara Saburo
Dancer, choreographer and stage director. He established the KARAS theatre company in 1985. He won a prize at an international dancing and choreography competition in France in 1986. By taking a completely new direction, which was neither an imitation of Western art nor the taking over of traditional Japanese dancing, he suddenly attracted the attention of dancing circles. Since then, together with his theatre company, he has been invited to perform at theatres and international art festivals in major European and North American cities each year. His relentless pursuit of artistic beauty as well as unparalleled dancing abilities have won the highest praise and support, exerting tremendous influences on the dancing world. In recent years, he has been invited by prominent European ballet and dance companies to create many new works that have become part of their repertoire. Next spring, he will choreograph works for the Paris Opera Ballet. As exemplified by collaborations with musicians and other artists as well as by educational projects targeted at youths, a wide range of his artistic activities and a high level of his theatrical expression are highly rated throughout the world.
His latest work "Luminous" received the First Asahi Stage Art Award. His previous "Raj Packet-everything but Ravi" won both the Dance Critics Society Award and the Nimura Dance Award.