Yajirushi (Arrow) - Being Tempted
THE PIT
---
<STAFF>

| | |
| --- | --- |
| Written and directed by | : Ota Shogo |
| Set Designer | : Shima Jiro |
| Lighting Designer | : Ogasawara Jun |
| Sound Designer | : Kato Yoichiro |
| Costume Designer | : Domoto Noriko |
| Sound and visual production | : Ota Genichiro |
| Assistant Director | : Maeda Manami |
| Stage Manager | : Yonekura Yukio |
| | |
| Artistic Director | : Kuriyama Tamiya |
| Presented by | : New National Theatre, Tokyo |
---
<CAST>

| | | |
| --- | --- | --- |
| Osugi Ren | | Kim Kumija |
| Shinagawa Toru | | Inagawa Miyoko |
| Oda Yutaka | | Suzuki Rieko |
| Yoshida Asahi | | Ando Tomoko |
| Kanai Yoshinobu | | Tanigawa Kiyomi |
---
<PERFORMANCES>

November
2002
Tue.
12
Wed.
13
Thu.
14
Fri.
15
Sat.
16
Sun.
17
Mon.
18
Tue.
19
Wed.
20
Thu.
21
matinée
1:00pm
1:00pm
No
Performance
2:00pm
evening
7:00pm
7:00pm
7:00pm
7:00pm
7:00pm
7:00pm




November
-December
2002
Fri.
22
Sat.
23
Sun.
24
Mon.
25
Tue.
26
Wed.
27
Thu.
28
Fri.
29
Sat.
30
Sun.
1
matinée
1:00pm
1:00pm
No
Performance
2:00pm
1:00pm
1:00pm
evening
7:00pm
7:00pm
7:00pm
7:00pm

Doors will open 45 minutes before the start of each performance.
---
<ADVANCE TICKETS>
Available from Sunday 29 September, 2002 at 10:00am.
To order tickets, please call +81-3-5352-9999 (10:00am-6:00pm).
Internet ticket reservation available through the following Websites.(Japanese only)
http://t.pia.co.jp/
http://eee.eplus.co.jp/
---
<TICKET PRICES>

| | | |
| --- | --- | --- |
| Type | Seat A | Seat B |
| Price | ¥4,200 | ¥3,150 |

Seat Z(¥1,500) is sold only on the performance day at the Box Office and exclusive Ticket Pia Offices.
---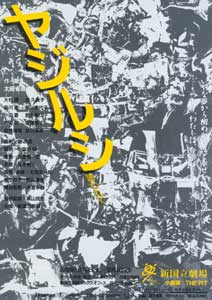 There is no happier moment than when coming out of an unpleasant dream.
In other words, I am happy now.

Contemporary drama in Japan took on a quite different look in the 1960s. Supported by the worldwide trend of criticism at the postwar systems, young theatrical people launched small avant-garde theater companies one after another in rivalry with the shingeki (new theater) establishment. Looking for new theatrical concepts, these people led their respective groups as a charisma of strong individuality, brilliant talent and tremendous influence and attracted public attention not only in Japan but also in the rest of the world. Ota Shogo, together with Kara Juro, Suzuki Tadashi, Terayama Shuji and Betsuyaku Minoru, is viewed as a member of the first generation of the movement called "shogekijo undo (small theater movement)."
From 1970 to 1988, Ota Shogo presided over the Tenkei Gekijo theater company established in 1968. He established his own style, called "silent drama," which reduced the lines to a minimum. With its focus on physical movements, silent drama looked at the lives of people living in this world and human beings as a biological existence in simple theatrical space, sound effects and the amplified flow of time. "The fervent performance of people living in modern times," "A whirlpool of abundant images," "Opulent theatrical performance," "The essence of drama," "Stage direction that explored new dramatic possibilities" and "The theatrical beauty that came home to the viewers" - all these comments that were made on the stage direction by Ota Shogo ask us sharp questions: What is drama and what is something dramatic?
The motif of "Yajirushi (Arrow) - Being Tempted" is an arrow that appears at the beginning of Kosmos (Cosmos), a novel by the Polish writer Witold Gombrowicz. The arrow is a symbol that simply indicates a direction and has an unknown purpose. The world of twilight in which men and women driven by arrows that suddenly appear meet, as well as memory, the lives of human beings& In the Yajirushi series, Ota Shogo previously wrote three dramas: Yajirushi in 1986, Mizu no Kyujitsu (The Holiday of Water) in 1987, and Element in 1994. In these works, he intentionally quoted and repeated the lines written and spoken in various ways, and this technique fused spatial and temporal structures to create a dramatic universe. In addition to human beings as a biological existence, he attempted to shed light on human beings as a social existence and portray both aspects of human beings, and this perspective can only be seen in the Yajirushi series, which explores the possibilities of text as a tool. Objects, images, sounds and text - all these tools interact with one another to create the dramatic world of Ota Shogo. Look forward to his new work, the culmination of the Yajirushi series he has worked on during the past 20 years.