Donizetti:Lucia di Lammermoor
Opera in 2 parts (3 acts) in Italian with Japanese supertitles
OPERA HOUSE
---
<STAFF>

| | |
| --- | --- |
| Original by | : Walter Scott |
| Libretto by | : Salvatore Cammarano |
| Music by | : Gaetano Donizetti |
| | |
| Artistic Director | : Igarashi Kiyoshi |
| Conductor | : Paolo Olmi |
| Production | : Vincenzo Grisostomi Travaglini |
| | |
| Chorus Master | : Misawa Hirofumi |
| Set and Costume Designer | : Alfredo Troisi |
| Lighting Designer | : Isono Mutsumi |
| Choreographer | : Ishii Kiyoko |
| Stage Manager | : Sugahara Takahiro |
| Assistant Conductors | : Sato Hiroshi / Sato Masahiro / Yazawa Sadaaki / Abe Katsuhiko |
| Assistant Stage Directors | : Taguchi Michiko / Hisatsune Hidenori |
| Chorus | : New National Theatre Chorus / Fujiwara Opera Chorus Group |
| Orchestra | : Tokyo Philharmonic Orchestra |
| | |
| Presented by | : Agency for Cultural Affairs / New National Theatre, Tokyo |
---
<CAST>

October 2002
Friday
11
Sunday
13
Monday
14
Thursday
16
Saturday
19
Sunday
20
Lucia
Victoria Loukianetz
X
X
X
Cinzia Forte
X
X
X
Sir Edgardo
di Ravenswood
Fabio Sartori
X
X
X
X
Valter Borin
X
X
Lord Enrico
Ashton
Roberto Frontali
X
X
X
X
Tani Tomohiro
X
X
Raimondo
Bidebent
Kubota Masumi
X
X
X
Wakabayashi Tsutomu
X
X
X
Lord Arturo
Buklaw
Matsuura Ken
X
X
X
Tsunoda Kazuhiro
X
X
X
Alisa
Kono Megumi
X
X
X
Takemoto Setsuko
X
X
X
Normanno
Arime Tetsuya
X
X
X
Oho Ikuo
X
X
X
---
<PERFORMANCES>

October 2002

Friday
11

Sunday
13
Monday
14
Thursday
16
Saturday
19
Sunday
20
3:00pm
X
X
X
X
6:30pm
X
X

Doors will open 60 minutes before the opening of the performance.
Small lectures on this opera will be presented 45 minutes before the curtain time.
---
<ADVANCE TICKETS>
Available from Sunday 4 August, 2002 at 10:00am.
To order tickets, please call +81-3-5352-9999 (10:00am-6:00pm).
Internet ticket reservation available through the following Websites.(Japanese only)
http://t.pia.co.jp/
http://eee.eplus.co.jp/
---
<TICKET PRICES>

| | | | | | | | |
| --- | --- | --- | --- | --- | --- | --- | --- |
| Type | Seat S | Seat A | Seat B | Seat C | Seat D | Seat E | Seat Z |
| Price | ¥18,900 | ¥15,750 | ¥12,600 | ¥9,450 | ¥6,300 | ¥3,150 | ¥1,500 |

Seat Z and Student Ticket(50% discount) are sold only on the performance day at the Box Office and exclusive Ticket Pia Offices. (Telephone reservation not available.)
---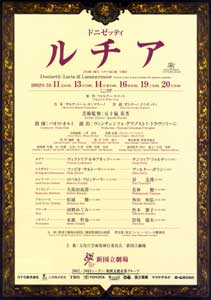 The Passionate Love between Two Young Lovers
Whose Families Are Enemies
The Greatest Masterpiece of Bel Canto Opera,
Famed for its "Mad Scene"

Lucia di Lammermoor by Gaetano Donizetti is an adaptation of The Bride of Lammermoor, a novel based on a true story in Scotland, which was written by the British novelist and poet Sir Walter Scott. With a brilliant libretto by Cammarano, Donizetti developed this story, which was widely known in Europe at that time, into a dramatic opera. Lucia is also considered to be the greatest masterpiece by the Italian composer and that of bel canto opera. The highlight of this opera is the Mad Scene in which the heroine Lucia, so overcome with grief that she loses her mind, sings using the transcendental coloratura technique. Lucia is also full of scenes that are worthy of note, including the sextet at the wedding ceremony and the aria Tu che a Dio spiegasti l'ali (Thou hast spread thy wings to heaven) sung by Edgardo just before the fall of the curtain. The gorgeous cast of singers includes Victoria Loukianetz, who is best in bel canto opera, and Cinzia Forte, a born bel canto opera singer and a new star in this category. In October, the curtain will rise for Lucia, the art of voice, and the first performance of a Donizetti work at the New National Theatre, Tokyo.

Synopsis
The setting is Scotland in the 17th century. Enrico, the lord of Lammermoor, is determined to make his younger sister Lucia wed Arturo in order to strengthen his political alliances. Having found that Lucia loves Edgardo, an enemy of the family, Enrico shows Lucia a forged letter indicating Edgardo's supposed betrayal and convinces his sister to agree to marry Arturo. Knowing nothing of the truth, Edgardo curses her for her treachery. Rebuked for her betrayal, Lucia eternally loses her reason due to the overwhelming shock and stabs her bridegroom to death in frenzy. She appears at the site of the wedding celebrations in a state of madness, sings her passionate love for Edgardo in her hallucinations and falls dying. Edgardo learns of Lucia's death and stabs his heart with a dagger.