The New National Theatre Tokyo The Pit Opera #8
Gioachino Rossini: L'Occasione fa il Ladro
Opera in 1 Act (Sung in Italian with Japanese Supertitles)
THE PIT
---
<STAFF>

| | |
| --- | --- |
| Conductor | : Sato Hiroshi |
| Stage Director | : Egawa Tomomi |
| | |
| Artistic Director | : Igarashi Kiyoshi |
| Libretto by | : Luigi Prividali |
| Music by | : Gioachino Rossini |
| Scenery | : Arata Ryo |
| Costume Designer | : Handa Etsuko |
| Lighting Designer | : Naruse Kazuhiro |
| Stage Manager | : Murata Kensuke |
| Orchestra | : New National Theatre The Pit Opera Ensemble |
---
<CAST>

September 2002

Thursday
12

Friday
13
Saturday
14
Sunday
15
Don Eusebio
Mochiki Hiroshi
X
X
Oono Mitsuhiko
X
X
Berenice
Hirai Kaori
X
X
Ookawa Mayu
X
X
Conte Alberto
Onuki Iwao
X
X
Uehara Masatoshi
X
X
Don Parmenione
Shibayama Masanobu
X
X
Tanabe Toru
X
X
Ernestina
Obata Akemi
X
X
Hashimoto Keiko
X
X
Martino
Narita Hiroyuki
X
X
Habuchi Hiroki
X
X
---
<PERFORMANCES>

| | | | | |
| --- | --- | --- | --- | --- |
| September 2002 | Thursday 12 | Friday 13 | Saturday 14 | Sunday 15 |
| 3:00pm | | | X | X |
| 7:00pm | X | X | | |
---
<ADVANCE TICKETS>
Available from Saturday 3 August, 2002 at 10:00am.
To order tickets, please call +81-3-5352-9999 (10:00am-6:00pm).
Internet ticket reservation available through the following Website.(Japanese only)
http://t.pia.co.jp/
---
<TICKET PRICES>
All Seats Reserved: ¥4,200
Seat Z(¥1,500) is sold only on the performance day at the Box Office and exclusive Ticket Pia Offices.
---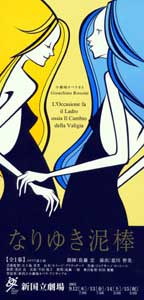 Explanation
L'Occasione fa il Ladro ossia Il Cambio della Valigia (The Occasion Makes the Thief or the Exchange of a Suitcase) is the first of Gioachino Rossini's (1792-1868) works to be staged at the NNTT since the performance of L'Inganno Felice (The Happy Stratagem), the second in the Pit Opera Series. Its premiere took place in 1812, the same year as the first performance of L'Inganno Felice, and it is an hour-long "farsa", a one-act opera written during the period from the second half of the 18th century to the early 19th century. A story of witty stratagems that revolves mainly around two pairs of lovers is depicted with light and eloquent music carrying all the hallmarks of Rossini. Look forward to the masterly skill of Egawa Tomomi, who has directed a wide range of works from Carmen, Madama Butterfly and other popular operas to works premiered in Japan as well as operatic works written by Japanese composers.

Synopsis
While Don Parmenione is taking shelter from the storm at an inn, Conte Alberto, who is heading for Naples to marry his fiancée Berenice, arrives. Soon it stops raining, and Parmenione departs first, but as he was in a hurry, he mistakenly takes the count's suitcase instead of his own and leaves the inn. Noting an error, Parmenione opens the suitcase and finds in it a portrait of a beautiful woman. Convinced that this woman is Berenice, he plots to pass himself off as Conte Alberto. Meanwhile, Berenice is in low spirits worrying about her fiancé whom she has never met. The maidservant Ernestina works out a plan in which she will act as Berenice to test her fiancé's credibility. Before long, Parmenione, disguised as Conte Alberto, arrives at Berenice's house, and Ernestina takes a fancy to Parmenione. Then the real count appears, making the confusion even greater.