Opera Educational Programme for High School Students (Fiscal 2002)

Puccini: TOSCA
Operas in 3 Acts (Sung in Italian with Japanese Supertitles)
OPERA HOUSE
---
<STAFF>

The Original by

: Victorien Sardou
Libretto by
: Giuseppe Giacosa / Luigi Illica
Music by
: Giacomo Puccini
Artistic Director

: Igarashi Kiyoshi
Conductor
: Izaki Masahiro
Stage Director
: Antonello Madau Diaz / Taguchi Michiko
Scenery
: Kawaguchi Naoji
Lighting Designer
: Okuhata Yasuo
Costume Designer
: Pier Luciano Cavalloti
Chorus Master
: Sato Hiroshi
Children's Chorus Master
: Takayama Yoshiko
Stage Manager
: Sugahara Takahiro
Assistant Stage Directors
: Sawada Yasuko
Chorus
: New National Theatre Chorus
Children's Chorus
: Tama Family Singers
Orchestra
: Tokyo Philharmonic Orchestra
Special Cooperation
: Rohm Co., Ltd.
Cosponsored by
: The Tokyo metropolitan government,
the boards of education of Chiba, Saitama and Kanagawa prefectures
Supported by
: The Yasuda Fire & Marine Insurance Co.
---
<CAST>

July 2002

Friday
12

Monday
15
Tuesday
16
Wednesday
17
Thursday
18
Tosca
Sato Hisara
X
X
X
Kohama Taemi
X
X
Cavaradossi
Inoue Ryoji
X
X
X
Chubachi Satoshi
X
X
Scarpia
Orie Tadamichi
X
X
X
Toyoshima Yuichi
X
X
Angelotti
Miura Katsuji
X
X
X
Kang-Liang Peng
X
X
Spoletta
Ichikawa Kazuhiko
X
X
X
Ikemoto Kazunori
X
X
Sciarrone
Mine Shigeki
X
X
X
Ohkubo Makoto
X
X
Il Sagrestano
Shinpo Takashia
X
X
X
Tsukiji Fumio
X
X
Carceriere
Nakamura Yasushi
X
X
X
Tajima Tatsuya
X
X
Un Pastore
Oomori Satoko
X
X
X
Okayama Miyuki
X
X
---
<PERFORMANCES>

July 2001

Friday
12

Monday
15
Tuesday
16
Wednesday
17
Thursday
18
1:00pm
X
X
X
X
X

Approximately 3 hours (including intermission)
---
<ADVANCE TICKETS>
Available from Sunday 12 May, 2002 at 10:00am.
---
<TICKET PRICES>
All Seats Reserved: ¥2,100 (tax included)
Senior high-school students only. (Student ID required when purchasing the tickets.)
Adults can purchase the tickets for ¥4,200 only on the performance day if they are not sold out
(¥2,100 for high-school students or under).
---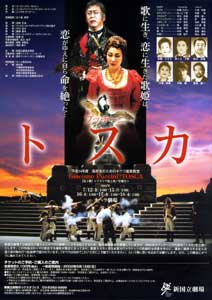 The celebrated singer who lives a life of singing and love kills herself because of love.

The New National Theatre Tokyo (NNTT) provides opera classes every year to enable high school students to appreciate the wonderful features of opera. In 2002, NNTT will perform Tosca, one of the most important works of Giacomo Puccini, for the class.
With its setting laid in a real place in Rome, Tosca focuses on the tragic love between the celebrated singer Tosca and the young artist Cavaradossi and portrays the hero and heroine at the mercy of their fate with impressive famous melodies.
NNTT will present this operatic masterpiece, earnestly wishing that this will be appreciated especially by students who will see an opera for the first time. NNTT hopes that the high school students will take this opportunity to experience opera.