Bizet: CARMEN
Opera in 3 Acts in French with Japanese supertitles
OPERA HOUSE
---
<STAFF>

| | |
| --- | --- |
| Libretto by | : Ludovic Halevy / Henri Meihac |
| Music by | : Georges Bizet |
| | |
| Artistic Director | : Igarashi Kiyoshi |
| Conductor | : Jacques Delacote |
| Production | : Maurizio Di Mattia |
| Production Producer | : Shimoyakawa Kyosuke |
| Set and Costume Designer | : Giuseppe Crisolini Malatesta |
| Choreographer | : Mariano Brancaccio |
| Lighting Designer | : Isono Mutsumi |
| Chorus Master | : Misawa Hirofumi |
| Stage Manager | : Saito Miho |
| Assistant Conductor | : Sato Hiroshi / Sudo Keiji / Mikawa Masanori |
| Assistant Stage Director | : Hisatsune Hidenori / Maekawa Kuniko |
| Chorus | : New National Theatre Chorus / Fujiwara Opera Chorus Group |
| Children's Chorus | : Suginami Children's Chorus |
| | |
| Orchestra | : Tokyo Philharmonic Orchestra |
| Scenery | : TEATROTECNICA |
| Costumes | : FARANI SATORIA TEATRALE,ROMA |
| Presented by | : New National Theatre, Tokyo / The Japan Opera Foundation |
---
<CAST>

June 2002
Friday
7
Sunday
9
Wednesday
12
Thursday
13
Saturday
15
Sunday
16
Carmen
Ildiko Komlosi
X
X
X
X
Anna Maria Chiuri
X
X
Don José
Kristjan Johannsson
X
X
X
Vladimir Bogachov
X
X
X
Escamillo
Gino Quilico
X
X
X
X
Gianfranco Montresor
X
X
Micaëla
Deguchi Masako
X
X
X
Sunakawa Ryoko
X
X
X
Zuniga
Kubota Masumi
X
X
X
Kang-Liang Peng
X
X
X
Moralès
Tachibana Toshihiro
X
X
X
Shimizu Ryoichi
X
X
X
Le Dancaïre
Sakurai Naoki
X
X
X
Toyoshima Yuichi
X
X
X
Le Remendado
Matsuura Ken
X
X
X
Ichikawa Kazuhiko
X
X
X
Frasquita
Ieda Noriko
X
X
X
Adachi Saori
X
X
X
Mercédès
Moriyama Kyoko
X
X
X
Takao Kayo
X
X
X
---
<PERFORMANCES>

MAY 2002
Friday
7
Sunday
9
Wednesday
12
Thursday
13
Saturday
15
Sunday
16
15:00
X
X
X
18:30
X
X
X

Doors will open 60 minutes before the opening of the performance.
Small lectures on this opera will be presented 45 minutes before the curtain time.
---
<ADVANCE TICKETS>
Available from Sunday 10 March, 2002 at 10:00am.
To order tickets, please call +81-3-5352-9999 (10:00am-6:00pm).
Internet ticket reservation available through the following Websites.(Japanese only)
http://t.pia.co.jp/
http://eee.eplus.co.jp/
---
<TICKET PRICES>

| | | | | | | |
| --- | --- | --- | --- | --- | --- | --- |
| Type | Seat S | Seat A | Seat B | Seat C | Seat D | Seat E |
| Price | ¥18,900 | ¥15,750 | ¥12,600 | ¥9,450 | ¥6,300 | ¥3,150 |

Seat Z(¥1,500) is sold only on the performance day at the Box Office and a part of Ticket Pia Offices.
---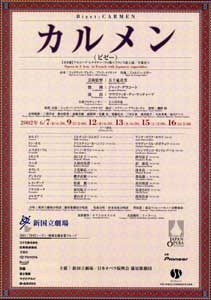 Carmen Adorns the Last of the NNTT 2001/2002 Season.
A New Production of Bizet's Masterpiece Full of Captivating Music!

Habanera (L'amour est un oiseau rebelle), Toreador's song, and other melodies that everybody has heard somewhere before are sung one after another. The entire opera is full of highlights. Probably because of the novelty of both the subject matter and music, the premiere of Carmen at the Opera Comique in 1875 received a somewhat uncomprehending reception. Today, however, it attracts listeners with its passionate and exotic music, so its popularity has made it a synonym for opera. The forthcoming performance of Carmen at the NNTT is based on the Alkor edition with recitatives. Love and hate-drama among the passionate girl, Carmen, the two men, José and Escamillo, unfolds at breathless speed.

Synopsis
The setting is Seville around 1820. Don José, who alone acts as if not attracted to her among the men in the town, seems to win Carmen's interest. She now seductively looks at him. Although José has the girl to love - Micaëla, but he soon gets captivated by Carmen.
For getting into a quarrel, Carmen gets captured. On her way to prison, guarded by José, Carmen successfully seduces him, and then escapes. For letting her away, José gets jailed. However, as soon as he is released from prison, he goes back to Carmen.
But Carmen, who after all gets tired of José, unexpectedly shifts her attention to the matador Escamillo.
Now the setting is a square outside the bullring; the place is full of enthusiastic cheers. There, José begs Carmen for her love, but he only fails. Driven out of a fit of jealousy, José stabs Carmen to her death.