2001 / 2002 SEASON NEW NATIONAL THEATRE BALLET, TOKYO

Giselle
Ballet in 2 Acts
OPERA HOUSE
---
<STAFF>

| | |
| --- | --- |
| Artistic Director | : Asami Maki |
| Choreography | : Jean Coralli / Jules Perrot / Marius Petipa |
| Music | : Adolphe Adam |
| Revised by | : Konstantin Sergeyev |
| Supervised by | : Natalia Dudinskaya |
| Conductor | : Aleksandr Sotnikov |
| Designs | : Viatcheslav Okunev |
| Lighting | : Gleb Filishtinsky |
| Stage Manager | : Morioka Hajime |
| Scenery and Costumes executed by | : Vozrozhdenie |
| Orchestra | : Tokyo Philharmonic Orchestra |
| Presented by | : New National Theatre, Tokyo |
---
<CAST>

June, 2002
Tuesday
25
Wednesday
26
Friday
28
Saturday
29
Sunday
30
Giselle
Barbora
Kohoutková
Barbora
Kohoutková
Sakai
Hana
Shiga
Misae
Miyauchi
Mariko
Albert
Denis
Matvienko
Denis
Matvienko
Yamamoto
Ryuji
Henmi
Tomohiko
Yamamoto
Ryuji

Myrtha: Maeda Nina / Nishikawa Takako
Hans: Guennadi Illine / Okuda Shinya / Ichikawa Toru


Endo Mutsuko
Omori Yuki
Takahashi Ari
Takayama Yu
Nakamura Mika
Nishiyama Yuko
Yugawa Mamiko
Chen Xiujie
Nagase Nobuo
Grigorij Barinov
Yoshimoto Yasuyuki
New National Theatre Ballet, Tokyo


The role of Albert on 30th of June will be performed by Yamamoto Ryuji due to physical condition of Kojima Naoya.
Please also refer to New National Theatre News.
---
<PERFORMANCES>

June, 2002
Tuesday
25
Wednesday
26
Friday
28
Saturday
29
Sunday
30
2:00pm
X
3:00pm
X
6:30pm
X
X
X

The theatre opens 60 minutes before the curtain rises.
---
<ADVANCE TICKETS>
Available from Sunday 17 March, 2002 at 10:00 am.
To order tickets, please call +81-3-5352-9999 (10:00am-6:00pm).
Internet ticket reservation available through the following Websites.(Japanese only)
http://t.pia.co.jp/
http://eee.eplus.co.jp/
---
<TICKET PRICES>

| | | | | |
| --- | --- | --- | --- | --- |
| Type | Seat S | Seat A | Seat B | Seat C |
| Price | ¥9,450 | ¥6,300 | ¥4,200 | ¥3,150 |

Seat Z(¥1,500) is sold only on the performance day at the Box Office and exclusive Ticket Pia Offices.

50% discount is available for foreign tourists purchasing on the performance day.
Please show your passports at the Box Office.
Please also refer to New National Theatre News.
---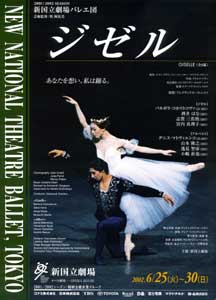 I Dance, Thinking of You

Inspired by the poet Heinrich Heine's story, which took its subject from the German legend of the Wilis, Giselle was premiered at the Paris Opera in 1841. Acclaimed as the greatest of all Romantic ballets, it has enjoyed an enduring popularity for over a century and half and can be found in the repertoire of virtually every classical ballet company in the world today. The New National Theatre, Tokyo premiered the ballet in 1998 using the Sergeyev version, which has gained wide popularity in Russia. The Russians have cherished the masterpiece and have produced many distinguished Giselle dancers such as Dudinskaya and Ulanova. The moving ballet Giselle, which poetically depicts the world of Romantic ballet, will be performed at the NNTT again and for the first time in four years with a cast of talented dancers. Act I depicts the pastoral autumn scene and the simple life of the peasants. There is a complete change of scene in Act II, where the cruel and fantastic world of the Wilis unfolds. The innocent and lovely heroine Giselle, who continues to love her lover with all her heart throughout the two contrasting acts, will deeply move many people.

The Path of Giselle and Albrecht's Love
peasant named Loys. As the curtain rises, the village is filled with crowds as a harvest festival of grape growers is underway. Giselle is happily dancing in a circle when suddenly tragedy befalls her. She comes to know the truth that her lover Loys is a nobleman whose real name is Albrecht (Albert) and moreover, he is betrothed to the daughter of a duke. She is so shocked and stricken by grief that she is driven to madness and soon dies. Overwhelmed by a feeling of deep regret, Albrecht visits Giselle's grave. It is midnight and the forest is illuminated by a bluish moonlight. It is the world of death dominated by the Wilis, vengeful spirits of brides who died before their wedding day. Youths who stray off into this world are enticed by the Wilis to continue dancing until they die. Giselle, who still passionately loves Albrecht even after her death, attempts to save him from her companions, the Wilis...