The New National Theatre Tokyo The Pit Opera #7
Hara Kazuko: The Case-book of Sherlock Holmes [confession]
Opera in 2 Acts in Japanese Language
THE PIT
---
<STAFF>

| | |
| --- | --- |
| Conductor | : Himoto Hidekazu |
| Director | : Iwata Tatsuji |
| | |
| Artistic Director | : Igarashi Kiyoshi |
| Original by | : Arthur Conan Doyle |
| Libretto | : Maeda Jun |
| Music by | : Hara Kazuko |
| Scenery Designer | : Shimakawa Toru |
| Costume Designer | : Maeda Ayako |
| Lighting Designer | : Naruse Kazuhiro |
| Stage Director | : Sato Kiminori |
| Chorus | : New National Theatre, Tokyo The Pit Opera Chorus |
| Orchestra | : New National Theatre, Tokyo The Pit Opera Ensemble |
---
<CAST>

April 2002
Thu.25
Fri.26
Sat.27
Sun.28
Professor Coram
Shibayama Masanobu
X
X
Ota Yasuyoshi
X
X
Anna
Sasaki Noriko
X
X
Yamamoto Mayumi
X
X
Holmes
Kanomata Toru
X
X
Miyamoto Masumitsu
X
X
Detective
Miyazaki Yoshiaki
X
X
Yoshida Nobuaki
X
X
Mrs. Marker
Kano Satomi
X
X
Oshimi Tomoko
X
X
Mortimer
Matsuyama Ikuo
X
X
Habuchi Hiroki
X
X
---
<PERFORMANCES>

| | | | | |
| --- | --- | --- | --- | --- |
| April 2002 | Thursday 25 | Friday 26 | Saturday 27 | Sunday28 |
| 3:00pm | | | X | X |
| 7:00pm | X | X | | |
---
<ADVANCE TICKETS>
Available from Monday, 4 March, 2002 at 10:00 am.
To order tickets, please call +81-3-5352-9999 (10:00am-6:00pm).
Internet ticket reservation available through the following Website.(Japanese only)
http://t.pia.co.jp/
---
<TICKET PRICES>
All Seats Reserved: ¥4,200
Seat Z(¥1,500) is sold only on the performance day at the Box Office and exclusive Ticket Pia Offices.
---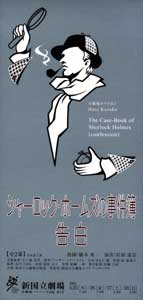 Explanations
Hara Kazuko, who is most active among contemporary Japanese composers in creating opera, has constantly taken a stance of depicting the drama of the human mind and has published a series of works that attracted public attention. Crime and Punishment, which was premiered in June 1999 as the second in the series of works the New National Theatre, Tokyo that commissioned her to set to music, brought together her past efforts as an opera composer of such caliber and furnished a major topic of conversation. The Casebook of Sherlock Holmes: Confession is Hara's second opera premiered in 1981. Taking its subject from"The Adventure of the Golden Pince-Nez"by Sir Arthur Conan Doyle, the opera impressively portrays the brilliant solution by the great detective Sherlock Holmes of a riddle and a tragedy hidden behind the incident.

Synopsis
In late afternoon at the end of November 1894, an incident occurs in an old country house that stands quietly and alone in Yoxley Old Place in London suburb. When the young secretary Willoughby Smith in a raincoat returns to the house, he senses someone moving in the dark study of Professor Coram for whom he works. He finds a suspicious-looking human figure and shouts, "Who are you? Don't run away!"and drives it into a corner, but instead he is attacked by the shadow and falls flat down. In his right hand is a golden pince-nez, which probably belongs to the intruder. In the morning of the following day, the famous detective Sherlock Holmes visits the house led by a police inspector from Scotland Yard and soon starts investigations on the scene. He also listens to the persons concerned with the house, including Professor Coram and his wife, housemaid Mrs. Marker and the gardener Mr. Mortimer, in order to solve the mystery of the incident. Before long, the unexpected true perpetrator is identified, but lies behind the incident is an international tragedy.