2001 / 2002 SEASON NEW NATIONAL THEATRE BALLET, TOKYO

Don Quixote
Ballet in 3 Acts and 5 Scenes
OPERA HOUSE
---
<STAFF>

| | |
| --- | --- |
| Artistic Director | : Asami Maki |
| Choreography | : Marius Petipa / Alexsandr Gorsky |
| Music | : Leon Minkus |
| Revised by | : Alexei Fadeetchev |
| Conductor | : Watanabe Kazumasa |
| Scenery and costumes executed by | : Vozrozhdenie |
| Lighting | : Kaji Kozo |
| Stage Manager | : Morioka Hajime |
| Orchestra | : Tokyo Philharmonic Orchestra |
| Designs | : Vyacheslav Okunev |
| Supported by | : Korean Embassy in Japan / Korean Cultural Service |
| Presented by | : New National Theatre, Tokyo |
---
<CAST>

May, 2002
Friday
17
Saturday
18
Sunday
19
Tuesday
21
Wednesday
22
Kitri
Kim
Joo-won
Miyauchi
Mariko
Shiga
Misae
Kim
Joo-won
Sakai
Hana
Basilio
Jang
Un-kyu
Ilgiz
Galimullin
Henmi
Tomohiko
Jang
Un-kyu
Sasaki
Dai

Espada: Ilgiz Galimullin / Yamamoto Ryuji
Don Quihote: Nagase Nobuo
Sancho Panza: Okuda Shinya

Endo Mutsuko
Omori Yuki
Takahashi Ari
Takayama Yu
Nakamura Mika
Nishikawa Takako
Nishiyama Yuko
Honda Setsuko
Maeda Nina
Yugawa Mamiko
Ishii Shiro
Ichikawa Toru
Guennadi Illine
Kyotani Yukio
Tanabe Masahiro
Chen Xiujie
Grigorij Barinov
Yoshimoto Yasuyuki
New National Theatre Ballet, Tokyo


The role of Basilio on 18th of May will be performed by Ilgiz Galimullin due to physical condition of Kojima Naoya.
Please also refer to New National Theatre News.
---
<PERFORMANCES>

May, 2002
Friday
17
Saturday
18
Sunday
19
Tuesday
21
Wednesday
22
2:00pm
X
3:00pm
X
6:30pm
X
X
X

The theatre opens 60 minutes before the curtain rises.
---
<ADVANCE TICKETS>
Available from Sunday 10 February, 2002 at 10:00 am.
To order tickets, please call +81-3-5352-9999 (10:00am-6:00pm).
Internet ticket reservation available through the following Websites.(Japanese only)
http://t.pia.co.jp/
http://eee.eplus.co.jp/
---
<TICKET PRICES>

| | | | | |
| --- | --- | --- | --- | --- |
| Type | Seat S | Seat A | Seat B | Seat C |
| Price | ¥9,450 | ¥6,300 | ¥4,200 | ¥3,150 |

Seat Z(¥1,500) is sold only on the performance day at the Box Office and exclusive Ticket Pia Offices.

50% discount is available for foreign tourists purchasing on the performance day.
Please show your passports at the Box Office.
Please also refer to New National Theatre News.
---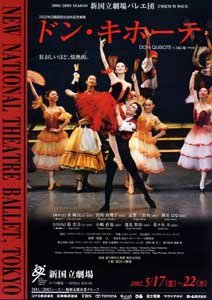 Don Quixote - madly Passionate

Based on Cervantes's famous novel Don Quixote, this ballet was premiered to the choreography of Petipa at Moscow's Bolshoi Theater in 1869. The cheerful story set in the sun-kissed southern country of Spain and the storyline featuring a succession of accentuated folk dances by dancers in colorful costume were well received, and the ballet has continuously been performed and has won applause to the present day though its first version underwent several subsequent revisions. In March 1999, the New National Theatre, Tokyo invited Alexei Fadeyechev, former artistic director of the Bolshoi Ballet, and produced its first performance of Don Quixote based on his newly revised version. This production faithfully followed Petipa's spirit and yet developed the story in a tempo befitting the present age. It filled the broad space of the Opera House with gaiety, enjoying highly favorable reception from the audience.

In the forthcoming production, the NNTT's third, Kim Joo-wong and Jang Un-kyu, up-and-coming dancers invited from the Korea National Ballet, will appear as principals in commemoration of the co-sponsorship of the World Cup soccer championship to be held in Japan and Korea this year. Through ballet, a physical art that requires no language, this will achieve a gorgeous and lively cultural exchange between the two countries. Enjoy the magnificent program that costars the Korean dancers and three pairs of outstanding Japanese dancers.

The Love Affair over Kitri Throws the Whole Town into Commotion
The setting is a small, antiquated inn in the region of La Mancha, Spain. An elderly gentleman, who has had his mind confused by reading too many stories of chivalry and fancies himself to be a knight, calls himself Don Quixote and embarks on a journey with the peasant Sancho Panza as his servant. An event occurs in the port town of Barcelona when they arrive there. Kitri, a daughter of the innkeeper Lorenzo, is the prime favorite with the town. Although she is in love with the barber Basilio, her father stubbornly does not allow her daughter to marry Basilio because he wants her to marry the rich nobleman Gamache. Kitri, however, hates the foppish Gamache. The love affair over Kitri involves even Don Quixote as the image of Kitri overlaps that of his ideal woman Dulcinea. What should Basilio, the choice of Kitri's heart, do? The whole town is interested to know how things will develop and is thrown into commotion. How will the love affair come to an end?