Wagner: Die Walküre
"Der Ring des Niebelungen"Erster Tag
Music Drama in 3 Acts (in German with Japanese supertitles)
OPERA HOUSE

Special Cooperation: POLA Cosmetics, Inc.
---
<STAFF>

| | |
| --- | --- |
| Libretto and Music by | : Richard Wagner |
| | |
| Artistic Director | : Igarashi Kiyoshi |
| Conductor | : Jun Märkl |
| Production | : Keith Warner |
| Set and Costume Designer | : David Fielding |
| Lighting Designer | : Wolfgang Göbbel |
| Adviser | : Wolfgang Wagner |
| Associate Director | : Matthias von Stegmann |
| Costume Superviser | : Yvonne Milnes |
| Production Manager | : Jonathan Bartlett |
| Stage Manager | : Onita Masahiko |
| Assistant Conductor | : Lionel Friend / Misawa Hirofumi / Joya Masahiro |
| Assistant Stage Directors | : Sawada Yasuko / Emma Warner |
| Orchestra | : Tokyo Philharmonic Orchestra |
| | |
| Presented by | : New National Theatre, Tokyo |
| Co-sponsored by | : Japan Opera Group Conference |
| Cooperation | : Japan Wagner Association |
| Special Cooperation | : POLA Cosmetics, Inc. |
---
<CAST>

March/April 2002
Tuesday
26
Friday
29
Sunday
31
Monday
1
Thursday
4
Saturday
6
Sunday
7
Siegmund
Robert Dean Smith
X
X
X
X
X
Alan Woodrow
X
X
Hunding
Donald McIntyre
X
X
X
X
X
Hasegawa Akira
X
X
Wotan
James Johnson
X
X
X
X
X
Donnie Ray Albert
X
X
Sieglinde
Susan Anthony
X
X
X
X
X
Kurano Ranko
X
X
Brünnhilde
Linda Watson
X
X
X
X
X
Susan Bullock
X
X
Fricka
Fujimura Mihoko
X
X
X
X
X
Koyama Yumi
X
X
Gerhilde
Ikehata Satomi
X
X
X
X
X
X
X
Ortlinde
Morino Yumi
X
X
X
X
X
X
X
Waltraute
Obayashi Tomoko
X
X
X
X
X
X
X
Schwertleite
Kuroki Kaori
X
X
X
X
X
X
X
Helmwige
Hirai Kaori
X
X
X
X
X
X
X
Siegrune
Shiratsuchi Rika
X
X
X
X
X
X
X
Grimgerde
Kan Yumiko
X
X
X
X
X
X
X
Rossweisse
Iwamori Misato
X
X
X
X
X
X
X
---
<PERFORMANCES>

March/April
2002
Tuesday
26
Friday
29
Sunday
31
Monday
1
Thursday
4
Saturday
6
Sunday
7
15:00
X
X
X
17:00
X
X
X
X

Doors will open 60 minutes before the opening of the performance.
Small lectures on this opera will be presented 45 minutes before the curtain time.
---
<ADVANCE TICKETS>
Available from Sunday 9 December, 2001 at 10:00am.
To order tickets, please call +81-3-5352-9999 (10:00am-6:00pm).
Internet ticket reservation available through the following Websites.(Japanese only)
http://t.pia.co.jp/
http://eee.eplus.co.jp/
---
<TICKET PRICES>

| | | | | | | |
| --- | --- | --- | --- | --- | --- | --- |
| Type | Seat S | Seat A | Seat B | Seat C | Seat D | Seat E |
| Price | ¥23,100 | ¥18,900 | ¥14,700 | ¥11,550 | ¥7,350 | ¥4,200 |

Seat Z(¥1,500) is sold only on the performance day at the Box Office and a part of Ticket Pia Offices.
---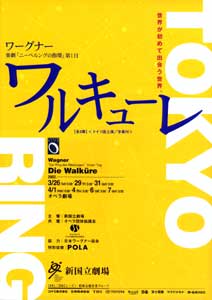 Highlights for the forthcoming "Walküre" - by Choki Seiji (Music Critic)
1. The Foreboding apprehended from the 2001 Performance "Das Rheingold"
"Das Rheingold" (The Rhine Gold) proved to be a performance with definite intensity. So-called "Tokyo Ring" - which seems to be rather frivolously named, considering this production's scale - may have given the audience slight incongruity.
Given a criticism that it had been too conservative in its programming and staging, the production may be described as "Klingsor's holy spear" hurled by the New National Theatre, Tokyo (NNTT), which was then as if trying to prove itself that it was worthy of the word "national".
Would the spear, against the hurler's will, end up being suspended in the air? When this outlandish Flower Garden finally disappears, would it eventually go back to the world of Pre-Established Harmony? Or, as it gets more and more outlandish, would it ultimately succeed to puzzle, entangle, and entertain the audiences?
None of enthusiastic, inquisitive listeners or viewers expects the story to end in the boring Pre-established Harmony for sure. On the contrary, the audiences do wish to indulge themselves in a world of the inexplicable; and wish to be enticed to the Ring's vast cosmic world, as they anticipate that Amfortas continues to bleed. Now it is the last year's "Das Rheingold" that hinted us those wishes could become a reality.
Following the prologue of this tetralogy, "Die Walküre" (The Valkyrie) - the second opera of the Ring Cycle - will be the touchstone that tells us where and how the Tokyo Ring goes in the future.

2. Stage Director Keith Warner
Undoubtedly, "The Ring" is not only for Wagnerian connoisseurs. The stage director Keith Warner is no way thinking of making a stage only embellished to be a Japanese-limited version that may disregard conventional western staging and situation. With his production "Das Rheingold", Wagnerians, who had long waited for a production of "The Ring" that they could boast of, had their grudge finally satisfied.
In his staging for this series, Warner has taken a stance - considered to be close to those executed by other leading, cutting-edged stage directors in terms of his interpretation, further reading and adaptation - considering how this production can be related to this modern day.
In this current work, directed in precisely spectacular way, the more familiar the audiences are with its story, the more they find things mysterious in movements and little acts of the characters.
We will wonder: How does "The Ring" come to an end with an opening scene set in a projection room with Wotan watching a film? Has the woman, who appears on stage together with Alberich, conceived Hagen already? Sitting down Alberich's chair with satisfaction after he left, what is in the mind of Mime? And what is it that Alberich pierced his vital parts to finally deprive of his reproductive power?

3. The Orchestra under the Baton of Jun Märkl
Even to listeners who are not so familiar with "The Ring" story, there are full of visual elements captured in the production; colorful stage design marked by beautiful contrasts; rapidly executed ways in changing scenes; the scene of a Large Serpent's Enter; the effective, easy-to-understand yet unexpected use of stage settings; those elements are the representatives of this multi-layered stage direction, which is such that the audiences had expected the NNTT to provide. How they can enjoy the production may vary, depend on how they are familiar with the production.
Speaking the orchestra, which is one of the most essential factor for Wagner's music dramas, the Tokyo Philharmonic that performed for "Das Rheingold", even for the fact that it slightly lacked a sense of solidity, succeeded to spin Wagnerian music by taking advantage of its own lightness and nimbleness. In that sense, the performance might have somewhat disappointed those who had expected what is called German-style Wagnerian music, but Jun Märkl's baton successfully placed a favorable impression for his tactics of placing well-balanced, accurate emphasis on leitmotifs. Following the "Das Rheingold", "Die Walküre" will be performed with the Tokyo Philharmonic; the rest of the tetralogy will be with the NHK Symphony Orchestra. Considering this, to see and listen to ways - very much likely to differ between the two - executed by the two orchestras approach to this series of production will be worthwhile for all of us.

Die Walküre: Synopsis
As the title "Die Walküre" (The Valkyrie) - the title in German meaning the war-maiden is in singular form with a definite article - suggests, "Die Walküre" is a tale that follows Brünnhilde's growth, who was born between Wotan, ruler of the gods, and Erda, earth goddess.
Wotan intends to have Siegmund, his son by a mortal woman, win back the Ring to rule the world. Fricka, wife of Wotan and also goddess of marriage, becomes so infuriated at the fact that Siegmund has committed incest with Sieglinde, his twin sister, who is married to Hunding, as to ruin Wotan's plan. Wotan's favorite daughter, Brünnhilde, tells Siegmund of his impending death according to her father's order. But she gets deeply moved by Siegmund's life where he values love the most. She then promises to take his side in a duel to fight with Hunding.
However, interrupted by Wotan, the battle results in Siegmund's death. Sieglinde escapes and goes off into a forest, carrying with an unborn child fathered by Siegmund. The disobedient Brünnhilde must get punished for defying Wotan's order. Then she tries to persuade Wotan to understand Sieglinde's commited love and to realize that this has been Wotan's sincere wish.
Her punishment is that she will be forced for a long sleep, shorn of divinity and defenseless on the Valkyrie rock until claimed by the first man that wakes her. She pleads passionately for one grace: let her rocky resting place be guarded by fierce flames so that only a dauntless hero may penetrate the barrier and claim her as his bride. Wotan complies with his favorite daughter's plea and bids eternal farewell to her, ordaining that he who proposes marriage to his daughter should be a freer man (Siegfried) than the god who is her father.