The New National Theatre Tokyo The Pit Opera #6
Carl Orff : Die Kluge
Opera in 1 Act (Music sung in German with Japanese dialogue and supertitles)
THE PIT
---
<STAFF>

| | |
| --- | --- |
| Conductor | : Tokito Yasufumi |
| Production | : Ito Akiko |
| | |
| Artistic Director | : Igarashi Kiyoshi |
| Libretto and Composed by | : Carl Orff |
| Set Designer | : Osawa Sachiko |
| Costume Designer | : Maeda Ayako |
| Lighting Designer | : Naruse Kazuhiro |
| Choreographer | : Ito Tae |
| Stage Manager | : Murata Kensuke |
| Orchestra | : New National Theatre The Pit Opera Ensemble |
---
<CAST>

February 2002
Thu.7
Fri.8
Sat.9
Sun.10
The King
Maiya Takehiko
X
X
Kojima Kiyoshi
X
X
The Peasant
Uno Tetsuya
X
X
Tsutsui Shuhei
X
X
The Peasant's daughter
Yamamoto Miki
X
X
Fujita Minako
X
X
The Jailer
Odagawa Tetsuya
X
X
Miyamoto Toshikazu
X
X
The Man with the Donkey
Takano Jiro
X
X
Mochizuki Tetsuya
X
X
The Man with the Mule
Narita Hiroyuki
X
X
Tsuchiya Kojiro
X
X
First Vagabond
Yukawa Akira
X
X
Takahashi Jun
X
X
Second Vagabond
Sasakura Naoya
X
X
Shinkoda Takeshi
X
X
Third Vagabond
Kuroki Jun
X
X
Shinoki Junichi
X
X
---
<PERFORMANCES>

| | | | | |
| --- | --- | --- | --- | --- |
| February 2002 | Thursday 7 | Friday 8 | Saturday 9 | Sunday10 |
| 3:00pm | | | X | X |
| 7:00pm | X | X | | |
---
<ADVANCE TICKETS>
Available from Sunday 23 December, 2001 at 10:00 am.
To order tickets, please call +81-3-5352-9999 (10:00am-6:00pm).
Internet ticket reservation available through the following Website.(Japanese only)
http://t.pia.co.jp/
---
<TICKET PRICES>
All Seats Reserved: ¥4,200
Seat Z(¥1,500) is sold only on the performance day at the Box Office and exclusive Ticket Pia Offices.
---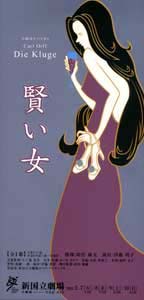 Explanations
The sixth in the opera series at the Pit is the stylish Die Kluge (The Wise Woman) by Carl Orff (1895-1982), the German composer famed for his scenic cantata Carmina Burana (Songs of Beuren). In Die Kluge, which takes its subject from Grimm's Fairy Tales, a comical story of a peasant's daughter (the wise woman) winning the king's favor, is lively told with vibrant music unique to Orff.

Synopsis
A peasant digs up a mortar of pure gold and decides to present it to the king, but his daughter advises him not to do so because the king will demand a pestle as well. As expected, the peasant is thrown into prison rather than receiving a reward because the mortar is not accompanied by a pestle. Hearing rumors about the daughter, the king orders that she be summoned and puts three riddles to her. Impressed with her witty answers, the king receives her as his consort. The king, however, finds his overly wise consort unmanageable and orders her to pack a trunk with whatever she cannot live without and leave. During the last dinner with his consort, the king falls asleep and then finds himself in the trunk and asks her why he is in it. The wise woman replies with a smile, "It is you that told me to pack the trunk with whatever I consider most important and leave."