Massenet: WERTHER
Opera in 4 Acts in French with Japanese supertitles
OPERA HOUSE
---
<STAFF>

Based on "Die Leiden des Jungen Werthers" by Johann Wolfgang von Goethe
Libretto by
: Édouard Blau / Paul Milliet / Georges Hartmann
Music by
: Jules-Emile-Frédéric Massenet
Artistic Director
: Igarashi Kiyoshi
Conductor
: Alain Guingal
Production
: Alberto Fassini
Set and Costume Designer
: William Orlandi
Chorus Master
: Misawa Hirofumi
Lighting Designer
: Isono Mutsumi
Stage Manager
: Sugahara Takahiro
Assistant Conductor
: Sato Hiroshi / Sato Masahiro / Mikawa Masanori
Assistant Stage Director
: Joseph Lee / Aguni Jun / Hisatsune Hidenori
Chorus
: New National Theatre Chorus
Children's Chorus
: Suginami Children's Chorus
Orchestra
: The Tokyo Symphony Orchestra
Presented by
: New National Theatre, Tokyo
---
<CAST>

| | |
| --- | --- |
| Werther | : Giuseppe Sabbatini |
| Charlotte | : Anna Caterina Antonacci |
| Albert | : Natale De Carolis |
| Sophie | : Nakajima Akiko |
| Le Bailli | : Kubota Masumi |
| Schmidt | : Chubachi Satoshi |
| Johann | : Toyoshima Yuichi |
---
<PERFORMANCES>

2002
Thursday
February 21
Sunday
February 24
Wednesday
February 27
Saturday
March 2
15:00
X
X
18:30
X
X

Doors will be opened 60 minutes before the opening of the performance.
Small lectures on this opera will be presented 45 minutes before the curtain time.
---
<ADVANCE TICKETS>
Available from Sunday,25 November, 2001 at 10:00 am.
To order tickets, please call +81-3-5352-9999 (10:00am-6:00pm).
Internet ticket reservation available through the following Websites.(Japanese only)
http://t.pia.co.jp/
http://eee.eplus.co.jp/
---
<TICKET PRICES>

| | | | | | | |
| --- | --- | --- | --- | --- | --- | --- |
| Type | Seat S | Seat A | Seat B | Seat C | Seat D | Seat E |
| Price | ¥18,900 | ¥15,750 | ¥12,600 | ¥9,450 | ¥6,300 | ¥3,150 |

Seat Z(¥1,500) is sold only on the performance day at the Box Office and exclusive Ticket Pia Offices.

---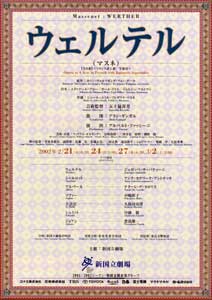 The Sabbatini Will Sing - A Leading Singer For Werther: The Third Opera in the Well-received Massenet Series

Werther has taken its part this time as the third opera production at the NNTT, following Don Quichotte in 2000 and Manon in 2001 in this well-received Massenet series. Based on Die Leiden des jungen Werthers (The Sorrows of Young Werther) by the great German writer Goethe, the tragic love between the sensitive young Werther and the virtuous Charlotte is lyrically and aesthetically portrayed with Massenet's music. Werther - stylish, passionate, but delicate and also fragile - is a difficult role that requires a singer capable of expressing various complex feelings.
In particular, the drama comes to its peek as Werther heartily sings "the Ossian's song", with his soul fully rendered to the Ossian's poems.
For the forthcoming performance in the NNTT, Sabbatini will do come and perform on stage again. He has been highly praised for his works such as the role "chevalier des Grieux" in Manon, and his this world- renowned role, " Werther".
The young poet Werther is passionately in love with Charlotte, but is driven to despair when discovering her engagement to Albert, which was what Charlotte's mother had wished when she was alive. Being rejected by Charlotte, Werther's passionate and ever lasting love suffers so much as to finally take his life.