The New National Theatre Tokyo The Pit Opera #4
Rossellini: Il Linguaggio Dei Fiori
Opera in 3 Acts (in Italian with Japanese supertitles)
THE PIT
---
<STAFF>

| | |
| --- | --- |
| Stage Director | : Imai Nobuaki |
| Conductor | : Miyamatsu Shigeki |
| | |
| Artistic Director | : Igarashi Kiyoshi |
| Libretto by | : Vittorio Bodini |
| Music by | : Renzo Rossellini |
| Scenery | : Imura Satsuki |
| Costume Designer | : Onodera Sae |
| Lighting Designer | : Naruse Kazuhiro |
| Stage Manager | : Osawa Hiroshi |
| Orchestra | : New National Theatre The Pit Opera Ensemble |
---
<CAST>

October 2001
Thu.11
Fri.12
Sat.13
Sun.14
Donna Rosita
Koshigoe Mami
X
X
Handa Miwako
X
X
La Zia
Takemura Keiko
X
X
Hayashi Michiko
X
X
La Governante
Kono Megumi
X
X
Takao Kayo
X
X
Lo Zio
Shimura Fumihiko
X
X
Izumi Ryohei
X
X
Il Cugino
Chubachi Satoshi
X
X
Higuchi Tatsuya
X
X
Prima Manola
Yoshikawa Hinako
X
X
Takemura Akiko
X
X
Seconda Manola
Kiyota Masaki
X
X
Sakano Sanae
X
X
Terza Manola
Kageyama Masayo
X
X
X
X
Prima Zitella
Masuda Miho
X
X
Ito Kyoko
X
X
Seconda Zitella
Maeda Yuka
X
X
Asai Ayako
X
X
Terza Zitella
Misumi Erika
X
X
Tezuka Mio
X
X
Madre delle Zitelle
Kitazawa Kiyomi
X
X
X
X
Prima Aiola
Takemura Akiko
X
X
Yoshikawa Hinako
X
X
Seconda Aiola
Sakano Sanae
X
X
Kiyota Masaki
X
X
Il Giovane
Kamatsu Yoshiki
X
X
X
X
---
<PERFORMANCES>

| | | | | |
| --- | --- | --- | --- | --- |
| October 2001 | Thursday 11 | Friday 12 | Saturday 13 | Sunday 14 |
| 3:00pm | | | X | X |
| 7:00pm | X | X | | |
---
<ADVANCE TICKETS>
Available from Sunday 26 August, 2001 at 10:00 am.
To order tickets, please call +81-3-5352-9999 (10:00am-6:00pm).
Internet ticket reservation available through the following Website.(Japanese only)
http://t.pia.co.jp/
---
<TICKET PRICES>
All Seats Reserved: ¥4,200
Seat Z(¥1,500) is sold only on the performance day at the Box Office and a part of Ticket Pia Offices.
---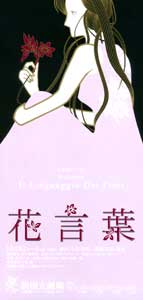 Explanatory Notes
The fifth of popular series of opera at the Pit is Il Linguaggio dei Fiori(The Language of Flowers) by the Italian composer, Renzo Rossellini (1908-1982). The opera was premiered in Milan in 1963. It is based on a play by Federico Garcia Lorca (1898-1936), who is a symbolic poet and playwright in Spain. In this play, Garcia Lorca depicts the 30-year-long transformation of a woman who has been patiently waiting to marry her fiance, by comparing her to a rose, which begins to blossom early in the morning, comes into full and beautiful bloom during the day, and sheds its petals before it quietly disappears in the darkness of night. It will be extremely interesting to see how Nobuaki Imai, an up-and-coming stage director who is first appearing at the NNTT, will express the passage of time in this opera.

Synopsis
Rosita, who has been brought up by her uncle and his wife, is engaged to her cousin. She keeps expecting their wedding day, but her fiance suddenly receives a letter from his father asking him to come home in order to take over the family's farm. Believing her cousin's vow to be coming back, she decides to wait for that day. Being irritated and impatient that the two have only been exchanging letters for over 10 years, the housekeeper encourages Rosita's aunt to make Rosita marry another man. And then, Rosita receives a letter from her fiance saying that she should have a proxy wedding ceremony with somebody else as her groom, because he cannot come back for a while. Time has passed and Rosita's hair has turned gray, but she continues waiting for her cousin...