Puccini: TURANDOT
Opera in 3 Acts (in original language with Japanese supertitles)
OPERA HOUSE
---
<STAFF>

Libretto by
: Giuseppe Adami / Renato Simoni
Music by
: Giacomo Puccini
Artistic Director

: Kiyoshi Igarashi
Conductor
: Yoshinori Kikuchi
Stage Director,
Scenery and Costume Designer
: Hugo De Ana
Chorus Master
: Mitsugi Oikawa
Choreographer
: Leda Lojodice
Lighting Designer
: Bambi
Stage Manager
: Takahiro Sugahara
Assistant Conductors
: Hiroshi Sato/ Tetsuya Kawahara/ Yuji Wakabayashi
Assistant Stage Directors
: Enrico Conforti/ Jun Aguni/ Yasuko Sawada
Scenery Assistant
: Lucia Goj
Costume Assistant
: Silvia Aymonino
Technical Coordinator
: Italo Grassi
Chorus
: New National Theatre Chorus / Fujiwara Opera Chorus Group
Children's Chorus
: Tama Family Singers
Orchestra
: Tokyo Philharmonic Orchestra
Production
: ARENA SFERISTERIO MACERATAOPERA and
TEATRO COMUNALE DI BOLOGNA
Presented by
: The Agency for Cultural Affairs / New National Theatre, Tokyo
---
<CAST>

| | |
| --- | --- |
| Turandot | : Francesca Patane(15,19,23,26) / Alessandra Marc(17,21,24,27) |
| Calaf | : Alberto Cupido(15,19,24,27) / Dario Volontè(17,21,23,26) |
| Liù | : Masako Deguchi(15,21,24,27) / Ryoko Sunakawa(17,19,23,26) |
| Timur | : Masumi Kubota(15,19,23,26) / Tsutomu Wakabayashi(17,21,24,27) |
| L'imperatore Altoum | : Joji Ko(15,19,23,26) / Hiroshi Mochiki(17,21,24,27) |
| Ping | : Armando Ariostini(15,19,23,27) / Susumu Matsumoto(17,21,24,26) |
| Pang | : Paolo Barbacini(15,19,23,27) / Ken Matsuura(17,21,24,26) |
| Pong | : Sergio Bertocchi(15,19,23,27) / kazuhiko Ichikawa(17,21,24,26) |
| Un Mandarino | : Kang-Liang Peng(15,19,23,26) / Shigeki Mine(17,21,24,27) |
---
<PERFORMANCES>

September 2001
Saturday
15
Monday
17
Wednesday
19
Friday
21
Sunday
23
Monday
24
Wednesday
26
Thursday
27
3:00pm
X
X
X
6:30pm
X
X
X
X
X

Doors will open 60 minutes before the opening of the performance.
Small lectures on this opera will be presented 45 minutes before the curtain time.
---
<ADVANCE TICKETS>
Available from Saturday 10 June, 2001 at 10:00 am
To order tickets, please call +81-3-5352-9999 (10:00am-6:00pm).
Internet ticket reservation available through the following Websites.(Japanese only)
http://t.pia.co.jp/
http://eee.eplus.co.jp/
---
<TICKET PRICES>

| | | | | | | |
| --- | --- | --- | --- | --- | --- | --- |
| Type | Seat S | Seat A | Seat B | Seat C | Seat D | Seat E |
| Price | ¥21,000 | ¥17,850 | ¥13,650 | ¥10,500 | ¥6,300 | ¥3,150 |

Seat Z(¥1,500) is sold only on the performance day at the Box Office and a part of Ticket Pia Offices.


The performance on 21 September is "McDonald Special Night", supported by McDonald's Co. (Japan), Ltd. All seats will be available in a half price (including tax).

Seat S: ¥10,500 Seat A: ¥8,925 Seat B: ¥6,825 Seat C: ¥5,250 Seat D: ¥3,150
Seat E: ¥1,575

Any discount will not be offered due to the special prices of the night, but Seat Z (¥1,500) is sold as usual performances.
---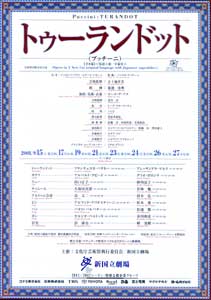 2001/2002 season opens with a grand scale of Puccini's last piece, " Turandot".

The condition to marry Turandot who is a beautiful princess in the Chinese Imperial Palace, is solving three riddles. Prince Calaf, fascinated by her beauty, declares his intention to answer the riddles at the risk of his own life. Although he succeeds in solving the riddles, Princess Turandot refuses to marry Calaf. The prince vows to her, "I will give up my life if you can find out my identity by next morning."
Turandot is Giacomo Puccini's last piece of opera. Puccini, who had been suffering from cancer, wrote the music for the opera up to Act III Scene 1; "The death of Liu", and died leaving the piece unfinished. In the first performance of 1926, Toscanini abruptly broke off his conducting at the part of "the death of Liu", and said to the audience, "At this point, the master laid down his pen."
Featuring an all-star cast of singers, this production will present an upgraded version of Turandot based on Hugo de Ana's stage direction and scenery for the Arena Sferisterio Macerata Opera and Teatro Comunale di Bologna, which dazzled audiences around the world.