Massenet: MANON
Opera in 5 Acts (Sung in French with Japanese Supertitles)
OPERA HOUSE
---
<STAFF>

Libretto by
: Henri Meilhac / Philippe Gille
Music by
: Jules-Emile-Frédéric Massenet
Artistic Director

: Kiyoshi Igarashi
Conductor
: Alain Guingal
Stage Director
: Jean-Pierre Ponnelle
Assistant to Stage Director
: Alexander Edtbauer
Scenery & Costume Designer
: Jean-Pierre Ponnelle
Lighting Chief
: Karl Schachinger
Stage Manager
: Takahiro Sugahara
Assistant Stage Director
: Natsuko Ikeyama
Chorus Master
: Masahiro Sato
Assistant Conductors

: Hirofumi Misawa / Hiroshi Sato / Tetsuya Kawahara
/ Masahiro Ozaki
Chorus
: New National Theatre Chorus / Fujiwara Opera Chorus Group
Orchestra
: Tokyo Philharmonic Orchestra
Presented by
: New National Theatre, Tokyo
---
<CAST>

| | |
| --- | --- |
| Manon Lescaut | : Leontina Vaduva |
| Le Chevalier Des Grieux | : Giuseppe Sabbatini |
| Lescaut | : Natale De Carolis |
| Le Comte Des Grieux | : Naoki Ikeda |
| Guillot de Morfontaine | : Kan-ichi Suzuki |
| De Brétigny | : Rentaro Kurosaki |
| Pousette | : Mami Koshigoe |
| Javotte | : Naomi Nagata |
| Rosette | : Masako Teshima |
| L'Hôtelier | : Fumio Tsukiji |
---
<PERFORMANCES>

| | | | | |
| --- | --- | --- | --- | --- |
| July 2001 | Thursday 5 | Sunday 8 | Wednesday 11 | Saturday 14 |
| 3:00pm | | X | | X |
| 6:30pm | X | | X | |

Doors will open 60 minutes before the opening of the performance.
Small lectures on this opera will be presented 45 minutes before the curtain time.
---
<ADVANCE TICKETS>
Available from Saturday 31 March, 2001 at 10:00am.
To order tickets, please call +81-3-5352-9999 (10:00am-6:00pm).
Internet ticket reservation available through the following Websites.(Japanese only)
http://t.pia.co.jp/
http://eee.eplus.co.jp/
---
<TICKET PRICES>

| | | | | | | |
| --- | --- | --- | --- | --- | --- | --- |
| Type | Seat S | Seat A | Seat B | Seat C | Seat D | Seat E |
| Price | ¥18,900 | ¥15,750 | ¥12,600 | ¥9,450 | ¥6,300 | ¥3,150 |

Seat Z(¥1,500) is sold only on the performance day at the Box Office and a part of Ticket Pia Offices.
---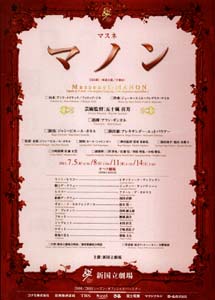 Vaduva and Sabbatini -- The best in combination Massenet's lyrical and beautiful music will fill the stage.

At the Japanese premiere of the complete version of Don Quichotte last May, many must have been impressed with the beautiful music by Massenet. Except for Bizet's Carmen, French operas are seldom performed in Japan, but following Don Quichotte, Manon, too, will certainly furnish a topic of conversation. Manon was premiered at the Opéra-Comique, Paris in 1884. The opera was well received by the audience and it was repeatedly performed at the theatre in subsequent years. Records show that it was performed 740 times until Massenet's death. Although it is based on the same novel as Puccini's Manon Lescaut is, Massenet elegantly depicted with his graceful music the charm of Manon who freely pursues her pleasure. The famous standard version by the late Jean-Pierre Ponnelle of Manon will be staged again at the New National Theatre, Tokyo with a dazzling cast of singers.

Synopsis
Amiens in northern France around 1720. On her way to a convent, Manon is greeted by her cousin, Lescaut. When Manon gets off from the stagecoach, the Chevalier des Grieux is fascinated with her beauty and they run away together to Paris. Lescaut and his colleagues locate them and tempt Manon into a more luxurious life. Manon vacillates but decides to part with des Grieux. Meanwhile, des Grieux is taken away by men sent by his father. Later, Manon hears that des Grieux entered a seminary, her old love for him comes back, and she goes to see him. Their love is rekindled. Her pleasure-seeking life, however, leads him to run through the fortune he inherited from his mother. Charged with cheating at card playing, they are arrested. Manon is condemned to exile in America. Des Grieux is set free under the influence of his father, but his love for Manon is strong and after many difficulties, he is finally able to meet her. Finding out that he truly loves her, Manon dies in the arms of des Grieux.