KONNICHI WA KASAN
THE PIT
---
<STAFF>

| | |
| --- | --- |
| Written and directed by | : Ai Nagai |
| Set Designer | : Hajime Ota |
| Lighting Designer | : Ryuichi Nakagawa |
| Sound Designer | : Kunihiko Ichiki |
| Costume Designer | : Noriko Takehara |
| Assistant Director | : Ryo Kuroiwa |
| Stage Manager | : Toshihisa Shibuya |
| Artistic Director | : Tamiya Kuriyama |
| Presented by | : New National Theatre, Tokyo |
---
<CAST>

| | | | | | | | | |
| --- | --- | --- | --- | --- | --- | --- | --- | --- |
| Haruko Kato | | Mitsuru Hirata | | | | | | |
| Tamae Onishi | | Miyako Taoka | | Yukiko Tachibana | | Yoshi Sakou | | Moeko Koyama |
| Naoki Sugiura | | | | | | | | |
---
<PERFORMANCES>

March 2001
Mon
12
Tue
13
Wed.
14
Tur.
15
Fri.
16
Sat.
17
Sun.
18
Tue.
20
Wed.
21
matinée
2:00pm
2:00pm
1:00pm
1:00pm
1:00pm
2:00pm
evening
7:00pm
7:00pm
7:00pm
7:00pm
March 2001
Thu.
22
Fri.
23
Sat.
24
Sun.
25
Tue.
27
Wed.
28
Thu.
29
Fri.
30
Sat.
31
matinée
1:00pm
1:00pm
2:00pm
2:00pm
1:00pm
evening
7:00pm
7:00pm
7:00pm
7:00pm
7:00pm

There will be no performances on Monday 19 and Monday 26.
Doors will open 45 minutes before the start of each performance.
---
<ADVANCE TICKETS>
Available from Sunday 14 January, 2001 at 10:00am.
To order tickets, please call +81-3-5352-9999 (10:00am-6:00pm).
Internet ticket reservation available through the following Websites.(Japanese only)
http://t.pia.co.jp/
http://eee.eplus.co.jp/
---
<TICKET PRICES>

| | | |
| --- | --- | --- |
| Type | Seat A | Seat B |
| Price | ¥5,250 | ¥3,150 |
---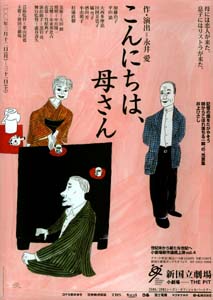 From the end of 20th to the opening of 21st century
"A Series of New Production for The Pit" Vol.4

Let us cultivate the field of our memory.
This is a collection of momentary scenes spilling out from time. -- Hisashi Inoue

The mother has got a lover, and her son has lost his job.
As a general rule, people live their "present" life shouldering their own "memories." It may be that truly knowing another person involves knowing the other person's various memories. Just as a mother's memories are not known to her son, the memories of people we feel close to often remain unknown. "What kind of person is my mother in reality?" In the play Konnichi wa Kasan (Hello, Mother), set in downtown Tokyo, the popular playwright Ai Nagai tells a story full of laughter and tears in which a mother, her son, and the mother's lover are faced with one another for the first time as people. People that have lived their respective lives, and shouldered their own memories, sometimes in close proximity, but now discover one another anew. Ai Nagai, who wrote this play-and will direct it in the forthcoming production-leads a theatrical company called Nitosha. In recent years, he has won a series of awards, including The Art Festival Grand Prize from the Agency for Culture and the "Kinokuniya Drama Award (Individual Award)." Nagai is constantly highly rated and is always attracting public attention. His works, which feature a mixture of lightness-replete with laughter-and solid structure (characteristic of those playwrights who take the royal road to dramaturgy, in which the dramatic power emerges from the dialogue between people), have gained tremendous popularity. The forthcoming production will, in addition, bring together the finest cast of actors and actresses available. Haruko Kato, Naoki Sugiura, and Mitsuru Hirata will appear in one of Nagai's plays for the first time. Also included in the cast are Tamae Onishi, Miyako Taoka, Yukiko Tachibana, Yoshi Sakou, and Moeko Koyama, who are all indispensable favorites in his plays. This cast of experienced players will, no doubt, create a new world of Ai Nagai. The play, scheduled for production in early spring of 2001, will surely be the talk of the town.

Synopsis
Akio Kanzaki (played by Mitsuru Hirata), who failed to join the hereditary family business of making tabi (traditional Japanese socks), is a company man working as a deputy general manager. He is responsible for corporate restructuring, and his job leaves him utterly exhausted each day. To make matters worse, his wife is pressing him for a divorce. Akio, who is at a loss as to how to proceed with his life, eventually finds himself at his parental home in downtown Tokyo, where his mother, Fukue (Haruko Kato), is living alone. Akio has not been home in a long time and every event that occurs surprises the heart-broken Akio. Strangers are constantly going in and out of Fukue's house, including an energetic Chinese girl. Adding to Akio's confusion, Fukue is now dressed in sexy and fashionable outfits that he could not have imagined from her previous lifestyle. She looks happy and acts lively, and is taking classes at culture schools and participating in volunteer activities. Further adding to the problem is a man named Naofumi Ogiu (Naoki Sugiura) who is hanging around Fukue and appears to be her lover. The high-spirited mother-now in her seventies-and her lover are trying to live their lives to the fullest. While being repeatedly perplexed by, and making many new discoveries about, Fukue and Naofumi's way of life, the son-who is in his forties-struggles to find his own way through life. By queer chance, these three start to live together with the most fascinating results. In this play, through the daily lives of Fukue, Naofumi, and Akio, as well as the high-spirited people who surround them in downtown Tokyo, we get a rare chance to view the lives of people who are attempting to honestly live their lives against a backdrop of closely mingled images of life and death.