KAMIYACHO SAKURA HOTEL
PLAYHOUSE
---
<STAFF>

| | |
| --- | --- |
| Written by | : Hisashi Inoue |
| Directed by | Hiroko Watanabe / Hisashi Inoue |
| Music by | : Seiichiro Uno |
| Set Designer | : Yukio Horio |
| Costume Designer | : Kikuko Ogata |
| Lighting Designer | : Motoi Hattori |
| Sound Designer | : Joji Fukagawa |
| Choreographer | : Tamae Sha |
| Singing Coach | : Sadako Miyamoto |
| Dialect Coach | : Joko Ohara |
| Assistant Director | : Shin'ichi Takabayashi |
| Stage Manager | : Takashi Kato |
| Artistic Director | : Tamiya Kuriyama |
| Presented by | : New National Theatre, Tokyo |
---
<CAST>

| | | | | |
| --- | --- | --- | --- | --- |
| Nobuko Miyamoto | | Hideji Otaki | | Kazuyo Mita |
| Hisashi Igawa | | Masayo Umezawa | | Takehiko Ono |
| Mai Fukazawa | | Kazunaga Tsuji | | Kyoji Matsumoto |
---
<PERFORMANCES>

April 2001
Wed.
4
Thu.
5
Fri.
6
Sat.
7
Sun.
8
Tue.
10
Wed.
11
Thu.
12
Fri.
13
Sat.
14
matinée
1:00pm
1:00pm
2:00pm
1:00pm
evening
6:30pm
6:30pm
6:30pm
6:30pm
6:30pm
6:30pm
April 2001
Sun.
15
Wed.
18
Thu.
19
Fri.
20
Sat.
21
Sun.
22
Mon.
23
Tue.
24
Wed.
25
matinée
1:00pm
2:00pm
1:00pm
1:00pm
2:00pm
evening
6:30pm
6:30pm
6:30pm
6:30pm

There will be no performances on Monday 9 and Monday 16.
Seats for Tuesday 17 have all been reserved for groups.
Doors will open 60 minutes before the start of each performance.
---
<ADVANCE TICKETS>
Available from Sunday 18 February, 2001 at 10:00am.
To order tickets, please call +81-3-5352-9999 (10:00am-6:00pm).
Internet ticket reservation available through the following Websites.(Japanese only)
http://t.pia.co.jp/
http://eee.eplus.co.jp/
---
<TICKET PRICES>

| | | | |
| --- | --- | --- | --- |
| Type | Seat S | Seat A | Seat B |
| Price | ¥6,300 | ¥5,250 | ¥3,150 |


Seat Z(¥1,500) is sold only on the performance day at the Box Office and a part of Ticket Pia Offices.
---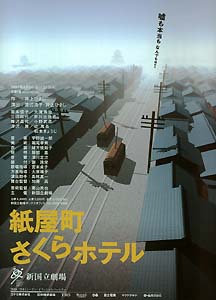 Lies, Truths, and Everything else are allowed to stay.

The play Kamiyacho Sakura Hotel, one of Hisashi Inoue's most distinguished works and which provided a triumph for the opening series of the NNTT, will be performed again!
The success of Kamiyacho Sakura Hotel provided a triumph for the opening series of the drama performances of the New National Theatre, Tokyo (NNTT) in October and November 1997. Having won great acclaim, and in response to enthusiastic requests, the play will be performed again at the NNTT. Kamiyacho Sakura Hotel, a comic masterpiece unique to Inoue, is a play in which truth and falsehood are intermingled. Its themes are taken both from an unfamiliar historical episode, in which the emperor dispatched envoys on a secret mission to examine the domestic state of affairs just before the end of the Second World War, and from events surrounding the Sakura Troupe, and itinerant theatrical company that suffered from the atomic bombing of Hiroshima. This time, Inoue himself will direct the forthcoming performance, which itself will be based on the direction of the NNTT's première of this play by the late Hiroko Watanabe, the former Artistic Director for the Drama Division of the NNTT. With the addition of Nobuko Miyamoto, a first-grade cast of actors and actresses and staff members aim to create an even more refined production.
At the dawn of the new century, the curtain will rise again on the Kamiyacho Sakura Hotel, which extols the wonders of humanity and drama.

Synopsis
In the early winter of 1945, a middle-aged man surrenders himself to the police authorities at the Sugamo Prison in Tokyo, stating, "I am an A-class war criminal."
The man is Kiyoshi Hasegawa (played by Hideji Otaki), former admiral and governor-general of Taiwan. He was also one of the emperor's secret envoys that took part in a little known historic episode towards the end of the war. Receiving him was Takeo Haryu (Takehiko Ono), a former lieutenant colonel, who is now working for the General Headquarters of the Supreme Commander for the Allied Powers because of his proficiency in English and his prewar professional career. The two men had in fact shared a extraordinary experience in Hiroshima just before the war ended. Hasegawa recognizes him, saying, "Aren't you perhaps. . . ?" Then, from the darkness emerges a scene at the Kamiyacho Sakura Hotel in Hiroshima in May 1945, seven months previously, and the song Sumire no Hana Saku Koro (When Violets Come into Bloom) is heard.
At this moment at the hotel, Sadao Maruyama (Kazunaga Tsuji) and Keiko Sonoi (Kazuyo Mita) are in the midst of desperately trying to train members of a hastily organized theatrical company for a special performance scheduled only two days away. Joining this performance are Junko Jingu (Nobuko Miyamoto), hotel owner; Masako Kumata (Masayo Umezawa), co-manager of the hotel; Reiko Urasawa (Mai Fukazawa), who has just applied to be a member of the theatrical troupe; and Teruhiko Oshima (Hisashi Igawa), a doctor of literature who is staying at the hotel. Junko Jingu is being investigated by Hachiro Tokura (Kyoji Matsumoto), a member of the Tokko, the Special Higher Police, because Jingu is a second-generation Japanese-American born in the United States and suspected of being a spy. Even Hasegawa, Haryu, and Tokura are forced to participate in the performance. But the Kamiyacho Sakura Hotel in Hiroshima, which, with the imminent end of the war is in a dilapidated state, possesses an extraordinary, indefinable atmosphere and character -- something dream-like that instills an attachment and a yearning to be there.