The Sleeping Beauty
Ballet in 3 Acts with Prologue and Apotheosis
OPERA HOUSE
---
<STAFF>

| | |
| --- | --- |
| Artistic Director | : Asami Maki |
| Choreography | : Marius Petipa |
| Music | : Pyotr Tchaikovsky |
| Revised by | : Constantin Sergeyev |
| Staged by | : Oleg Vinogradov |
| Conductor | : Viktor Fedotov |
| Orchestra | : Tokyo Philharmonic Orchestra |
| Designs | : Simon Virsaladze |
| Lighting | : Vladimir Lukasevich |
| Stage Manager | : Hajime Morioka |
| Scenery and Costumes executed by | : Mariinsky Theatre |
| Presented by | : New National Theatre, Tokyo |
---
<CAST>

April 2001

Thu. 26

Fri. 27
Sat. 28
Sun. 29
Mon. 30
Princess Aurora
Elena
Filipyeva
Elena
Filipyeva
Larisa
Lezhnina
Hana
Sakai
Larisa
Lezhnina
Prince Désiré
Denis
Matvienko
Kentaro
Morita
Naoya
Kojima
Denis
Matvienko
Naoya
Kojima




| | |
| --- | --- |
| Princess Florina | : Mariko Miyauchi / Yuko Nishiyama / Yu Takayama |
| Bluebird | : Masanobu Negishi / Yoshio Homura / Tomohiko Henmi |
| Lilac Fairy | : Ruri Tanaka / Nina Maeda |
| Carabosse | : Massimo Acri |




Kei Iwamoto
Mutsuko Endo
Yuki Omori
Yuki Shibata
Akiko Shimazoe
Ari Takahashi
Mika Nakamura
Takako Nishikawa
Mamiko Yukawa
Shiro Ishii
Toru Ichikawa
Shinya Okuda
Takashi Kobara
Nobuo Nagase
Akira Yamaguchi
Ryuji Yamamoto
NEW NATIONAL THEATRE BALLET, TOKYO


Natalya Ledovskaya, who originally was to perform the role of Princess Aurora on the 26th and the 28th, is unable to perform due to the injury on her feet, and Larisa Lezhnina (Dutch National Ballet) is going to take her place.
With this cast change, the main cast of 26th, 28th and 30th is changed as stated above.
Please also refer to New National Theatre News.

---
<PERFORMANCES>

| | | | | | |
| --- | --- | --- | --- | --- | --- |
| April 2001 | Thursday 26 | Friday 27 | Saturday 28 | Sunday 29 | Monday 30 |
| 1:30pm | | X | | | |
| 2:00pm | | | | X | X |
| 3:00pm | | | X | | |
| 6:30pm | X | | | | |

The theatre opens 60 minutes before the curtain rises.
Only a part of seats on the 1st and 2nd floor are available on Friday 27 as the other seats are reserved for group of students.
---
<ADVANCE TICKETS>
Available from Saturday 27 January, 2001 at 10:00am.
To order tickets, please call +81-3-5352-9999 (10:00am-6:00pm).
Internet ticket reservation available through the following Websites.(Japanese only)
http://t.pia.co.jp/
http://eee.eplus.co.jp/
---
<TICKET PRICES>

| | | | | |
| --- | --- | --- | --- | --- |
| Type | Seat S | Seat A | Seat B | Seat C |
| Price | ¥9,450 | ¥6,300 | ¥4,200 | ¥3,150 |


Seat Z(¥1,500) is sold only on the performance day at the Box Office and a part of Ticket Pia Offices.
---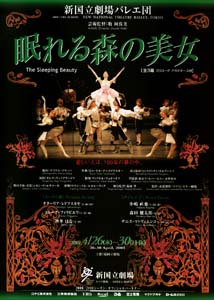 The beloved is in her sleep of one hundred years.
The Sleeping Beauty is known as a work of the grandest scale among the three major ballets by Pyotr Tchaikovsky. Its colorful music as well as its many characters and gorgeous stage art design are unparalleled. It is a masterpiece with the class and stylistic beauty that deserve to be referred to as the climax of the 19th-century Russian ballet, which flourished with Marius Petipa as its major choreographer.

At the christening ceremony to celebrate the birth of Princess Aurora, fairy godmothers are giving the princess their blessing, when the evil fairy, Carabosse, who is not invited and angry, makes her entry and places a deadly curse on the princess, vowing that she shall prick her finger on a spindle and die. On her 16th birthday, Princess Aurora, who has grown into a beautiful and radiant princess, is tricked by Carabosse, disguised as an old woman, into pricking her finger and the princess falls senseless. The Lilac Fairy appears before the grief-stricken court and lays spells on the princess to soften the deadly curse, saying, "She is not dead, but will only sleep for one hundred years." A hundred years later, led by the Lilac Fairy, Prince Désiré kisses the sleeping Princess Aurora and, in an instant, the curse is removed and the princess comes to life. The prince and princess hold a grand wedding ceremony and live happily ever after.

In the fall of 1997, New National Theatre Ballet, Tokyo celebrated its foundation with the performance of The Sleeping Beauty. The Sleeping Beauty is a tale of happiness and joy in which Princess Aurora is congratulated on her birth, coming of age, and marriage. This ballet also depicts the contrast between the good and the evil as epitomized by the Lilac Fairy and Carabosse, respectively, with richly colored music and stage art design. New National Theatre Ballet, Tokyo wishes to present this work as part of its important repertoire on its every milestone celebration. At the dawn of the 21st century, The Sleeping Beauty will be presented at New National Theatre, Tokyo again in April, a time when all plants and trees put forth new buds. By seeing this performance, the audience will be able to enjoy to the fullest the latest progress of New National Theatre Ballet, Tokyo, which has been upgraded both in name and reality.
This spring, a new one hundred years will begin with the awakening of Princess Aurora.