PIKADON KIJIMUNA
THE PIT
---
<STAFF>

| | | | | |
| --- | --- | --- | --- | --- |
| Written by | : Yoji Sakate | | Directed by | : Tamiya Kuriyama |
| Set Designer | : Kappa Senoho | | Lighting Designer | : Jiro Katsushiba |
| Sound Designer | : Koichi Yamamoto | | Costume Designer | : Nobuko Miyamoto |
| Dialect Coach | : Joko Ohara | | Dialect Coach | : Hiromichi Maehara |
| Assistant Director | : Hideki Kawahata | | Stage Manager | : Nobuyuki Tanaka |
| | | | | |
| Artistic Director | : Tamiya Kuriyama | | Presented by | : New National Theatre, Tokyo |
---
<CAST>

Toru Masuoka
Shinobu Terashima
Masayo Umezawa
Taka Takao
Ryuji Yamamoto
Takahiro Onishi
Yasuyo Okamoto
Mitsuhiro Yoshimura
Mayu Yamanaka
Shinya Hirano
Tomoko Okada
Shoko Shimozato
Mizuki Nakajima
Kazunaga Tsuji
Akiko Kurano
---
<PERFORMANCES>

February-March, 2001
Sat.
10
Sun.
11
Mon.
12
Tue.
13
Wed.
14
Thu.
15
Sat.
17
Sun.
18
Tue.
20
matinée
1:00pm
1:00pm
2:00pm
1:00pm
1:00pm
evening
6:00pm
7:00pm
7:00pm
7:00pm
February-March, 2001
Wed.
21
Thu.
22
Fri.
23
Sat.
24
Sun.
25
Tue.
27
Wed.
28
Thu.
1
matinée
2:00pm
1:00pm
1:00pm
2:00pm
evening
7:00pm
7:00pm
7:00pm
7:00pm
7:00pm
7:00pm

There will be no performances on Monday 19 and Monday 26.
Seats for Friday 16 have all been reserved for groups.
Doors will open 45 minutes before the start of each performance.
---
<ADVANCE TICKETS>
Available from Saturday 9 December, 2000 at 10:00am.
To order tickets, please call +81-3-5352-9999 (10:00am-6:00pm).
Internet ticket reservation available through the following Websites.(Japanese only)
http://t.pia.co.jp/
http://eee.eplus.co.jp/
---
<TICKET PRICES>

| | | |
| --- | --- | --- |
| Type | Seat A | Seat B |
| Price | ¥5,250 | ¥3,150 |


Seat Z(¥1,500) is sold only on the performance day at the Box Office and a part of Ticket Pia Offices.
---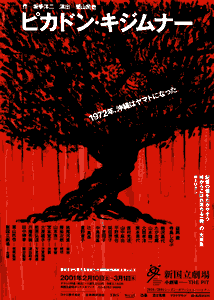 From the end of 20th to the opening of 21st century
"A Series of New Production for The Pit" Vol.3

Let us cultivate the field of our memory.
This is a collection of momentary scenes spilling out from time. -- Hisashi Inoue

In 1972, Okinawa was reverted to JAPAN.
With various issues facing Japan as his main theme, Yoji Sakate constructs a theatrical world that is constantly filled with a sense of tension. Written by Sakate, Pikadon Kijimuna is the third in "A Series of New Production for The Pit" based on the theme "The Age and Memory." This play takes its subject matter from Okinawa again, following Umi no Futten (The Boiling Point of the Sea) and Okinawa Milk Plant no Saigo (The Last of the Okinawa Milk Plant), both of which furnished a fresh and striking topic of conversation. Pikadon means an atomic bomb dropped on Hiroshima and Kijimuna means a fairy living in a tree of gajumaru, a story that has been handed down from generation to generation in Okinawa since ancient times. Using these two terms as its keywords, the play highlights the sufferings that the people of Okinawa have experienced. Okinawa shifted from American to Japanese rule. Through people who make desperate efforts to live with a cheerful and courageous spirit despite being perplexed by the arrival of Japanese rule, Pikadon Kijimuna portrays the deep scars left by the war which have remained as a stern reality. Challenging this hard and serious work is Tamiya Kuriyama, Artistic Director (Drama Division) of the New National Theatre, Tokyo. Following Umi no Futten, this is Sakate's second work directed by Kuriyama. Look forward to the unique actors and actresses of established reputation that support the intense theatrical space created by this play. Pikadon Kijimuna, which sheds light on the facts that are almost buried in history and poses questions as to how we should live in the future, is sure to strongly sway everyone's heart.
Synopsis
In 1972, the year of Okinawa's reversion to Japan. The period of occupation by the U.S. army ends and Okinawa is reunited with Japan for the first time in 27 years. The Tamashiro family has five sons. The mother has returned to her parents' home, living separately from her family. The stubborn father, or her husband, does not give way to her. The sons, too, are working to support their family by helping with household chores and farm labor and also working at part-time jobs. On one such day, a strange visitor calls on the Tamashiro family. Who is this man, who continues to stay with the family, saying, "Ichariba chode (people who meet once are all brothers)"? Under a tree of gajumaru, the largest in the village, is a small house. What is the secret of Kijimuna, which is talked about by a woman who lives shut up in this house? For over half a century from the age of war to the present day, there have been conflicts among the American, Japanese, and Okinawan cultures. To people who live with the awareness of being Uchinanchu (Okinawans), what on earth was the reversion of Okinawa to Japanese rule? Centered on the life of one family and those of war victims in Okinawa that are concealed in the depths of history, a story that has been left untold unfolds in this play.