HAHATACHI NO KUNIE (Towards the Mothers' Country)
THE PIT
---
<STAFF>

| | |
| --- | --- |
| Written by | : Masataka Matsuda |
| Directed by | : Nobuhiro Nishikawa |
| Set Designer | : Yasuhiko Okumura |
| Lighting Designer | : Akira Yamaguchi |
| Music | : Ryo Ueda |
| Sound Designer | : Isao Mochizuki |
| Costume Designer | : Ayako Maeda |
| Dialect Coach | : Nobuaki Fukuda |
| Assistant Director | : Teiichi Dojo |
| Stage Manager | : Kazunari Date |
| Artistic Director | : Tamiya Kuriyama |
| Presented by | : New National Theatre, Tokyo |
---
<CAST>

| | | | | |
| --- | --- | --- | --- | --- |
| Ken'ichi Okamoto | | Kaho Minami | | Noriko Ogawa |
| Kiichi Fukui | | Shoichiro Tanigawa | | Ryushi Kishizuchi |
---
<PERFORMANCES>

January, 2001
Wed.
10
Thu.
11
Fri.
12
Sat.
13
Sun.
14
Tue.
16
Wed.
17
Thu.
18
Fri.
19
matinée
1:00pm
1:00pm
2:00pm
evening
7:00pm
7:00pm
7:00pm
7:00pm
7:00pm
7:00pm
7:00pm
January, 2001
Sat.
20
Sun.
21
Tue.
23
Wed.
24
Thu.
25
Fri.
26
Sat.
27
Sun.
28
matinée
1:00pm
1:00pm
2:00pm
2:00pm
1:00pm
1:00pm
evening
7:00pm
7:00pm
7:00pm
6:00pm

There will be no performances on Monday 15 and Monday 22.
Doors will open 45 minutes before the start of each performance.
---
<ADVANCE TICKETS>
Available from Sunday 12 November, 2000 at 10:00am.
To order tickets, please call +81-3-5352-9999 (10:00am-6:00pm).
Internet ticket reservation available through the following Websites.(Japanese only)
http://t.pia.co.jp/
http://eee.eplus.co.jp/
---
<TICKET PRICES>

| | | |
| --- | --- | --- |
| Type | Seat A | Seat B |
| Price | ¥5,250 | ¥3,150 |


Seat Z(¥1,500) is sold only on the performance day at the Box Office and a part of Ticket Pia Offices.
---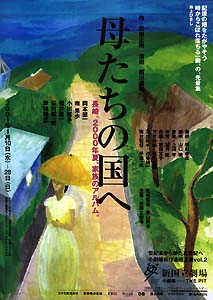 From the end of 20th to the opening of 21st century
"A Series of New Production for The Pit" Vol.2

Let us cultivate the field of our memory.
This is a collection of momentary scenes spilling out from time. -- Hisashi Inoue

The album of a family in Nagasaki in the year 2000. Summer.
The second in a series of new plays that are performed on the theme "The Age and Memory" is Masataka Matsuda's newly written play. His staged plays have always been highly evaluated, including Sakanoue no Ie (A House at the Top of a Slope), which won the grand prix of the first OMS drama award, Umi to Higasa (The Sea and Sunshade), which received the 40th Kishida Kunio drama award, Tsuki no Misaki (The Cape of the Moon), which received the best work award of the fifth Yomiuri grand drama award, and Natsu no Sunanoue (On the Summer Sand), which was awarded the drama/scenario prize of the 50th Yomiuri literary prize.
Masataka Matsuda is attracting public attention as one of the playwrights that will be the driving force of the theatrical world in the 21st century. The forthcoming play, Hahatachi no kunie (Towards the Mothers' Country), is a work in which he addresses a subject he had nursed in his mind for a long period of time and had waited until time ripened.
The setting is contemporary Nagasaki. It is a tale of one summer, revolving around a young married couple, the husband's elder brother, and the wife's elder sister, all of whom live in the city. In this play, the life of this family, shackled by the past, present, and future, is depicted in the setting of Nagasaki, which has significant meaning for 20th-century Japan. As we enter the new century, the play quietly and delicately poses a question about the way people live. It is a profound work in that, although it portrays the daily lives of these characters, it quietly illuminates the oscillating feelings and thoughts of characters which emerge from their casual conversations. Hahatachi no Kunie allows the audience to fully enjoy the very charm of the dramatic performance which can be savored only if the theatrical space is shared.
Stage directer of this play is Nobuhiro Nishikawa, who has an established reputation for his large-scale stage direction. He will direct at the New National Theatre, Tokyo for the second time after Yabo to Natsukusa (Ambition and Summer Grass). In addition, a cast of highly popular and also talented actors and actresses has been put together, including Ken'ichi Okamoto, Kaho Minami, Noriko Ogawa, and Kiichi Fukui, who are active in a wide range of fields ranging from visual arts to the theatre. The performance of this play is aptly suited to mark the opening of the new century.


Synopsis
Contemporary Nagasaki in the year 2000. Summer. A house stands on a hill at the top of a slope. Living there are a young married couple, Kenji and Naoko, and Naoko's elder sister, Keiko. Then Kenji's elder brother, Koichi, who is saddled with a heap of debts, becomes dependent on the family. Keiko introduces Murayama, who is sincere and works for a local board of education, to all members of the family, though she is still unable to decide about getting married to him. She seems to have once dated Nishizawa, one of Kenji's colleagues. Meanwhile, Koichi goes out to meet his wife and children again, who are living separately. As Kenji and Naoko hold their own thoughts while being perplexed by Keiko and Koichi, the summer of this year is coming to an end.