Raj Packet-everything but Ravi
Contemporary Dance: Dance Theatron No. 4
Playhouse
---
<STAFF>

| | |
| --- | --- |
| Choreography, Scenography and Lighting Design | : Saburo Teshigawara |
| Artistic Director | : Asami Maki |
| Production Director | : Yoko Miki |
| Music Compilation | : Kei Miyata / Saburo Teshigawara |
| Sound Design | : Willi Bopp |
| Light | : Hiroki Shimizu (HALO) |
| Stage Manager | : Toru Asaka |
| Technical Coordination | : Shun Ito |
| | |
| Sponsored by | : Kirin Brewery Co., Ltd. |
| Presented by | : New National Theatre, Tokyo |
---
<CAST>
Saburo Teshigawara

Live Band
SAND; Hilary Jeffery (Trombone) / Tim Wright (Electronics) / Neil Griffiths (Electric Guitar)

Dancers
Jacopo Godani / Urtzi Aranburu
Regina van Berkel / Kei Miyata (KARAS) / Rihoko Sato (KARAS) / Ravi Deepres
KARAS; Mie Kawamura / Azusa Yoshida / Jiifu / Yoshinari Kosako / Ikkou Masuda
Momoko Iida / Keiko Imahashi / Rie Kato / Hitomi Kaneko / Yukiko Doi
Takako Matsuura / Chisato Mizukami / Masako Yasumoto / Racona / Hiroyuki Iguchi
Hiroyuki Kurihara
---
<PERFORMANCES>

| | | |
| --- | --- | --- |
| December, 2000 | Saturday 16 | Sunday 17 |
| 3:00pm | | X |
| 7:00pm | X | |

The theatre opens 60 minutes before the curtain rises.
---
<ADVANCE TICKETS>
Available from Wednesday 25 October, 2000 at 10:00am.
To order tickets, please call +81-3-5352-9999 (10:00am-6:00pm).
Internet ticket reservation available through the following Websites.(Japanese only)
http://t.pia.co.jp/
http://eee.eplus.co.jp/
---
<TICKET PRICES>

| | | | |
| --- | --- | --- | --- |
| Type | Seat S | Seat A | Seat B |
| Price | ¥5,250 | ¥4,200 | ¥3,150 |

Seat Z(¥1,500) is sold only on the performance day at the Box Office and a part of Ticket Pia Offices.
---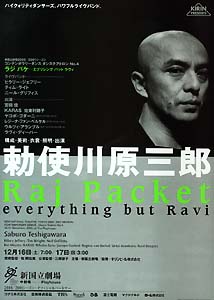 This is the only place where their dancing and music are created. This is the only place where you can encounter them.
High-caliber Dancers and Powerful Band Performing Live.
Saburo Teshigawara, who is active worldwide, will finally appear at the New National Theatre, Tokyo.
"Raj Packet - everything but Ravi" is the long-awaited new work in which he will make his appearance on stage together with guest dancers and musicians invited from Europe.
Saburo Teshigawara is a dancer, choreographer, and stage director who attracts the greatest public attention in the world today. He formed the KARAS Company in 1985. Since then, together with his own company, he has been invited to perform at theaters in major European cities and international art festivals each year. He has also undertaken joint productions in Europe, tremendously influencing the dancing and theatrical circles there. "Absolute Zero" and the European tour in 2000 of "Light behind Light", which was created in Stockholm, won the highest praise and support for his finely honed aesthetic sense and unsurpassed dancing. He created works that became part of the repertoire of the Frankfurt Ballet, Netherlands Dance Theater I, and Bayerische Staatsoper Ballet. He has been asked by many overseas ballet and dance companies to choreograph ballets and dances to be performed next year or thereafter. In addition, he is highly rated worldwide for his broad range of activities and a high level of stage representation as exemplified by his excellent collaborations with musicians and visual artists as well as his efforts for educational projects targeted at youths in the United Kingdom.