Ikuma Dan: YUZURU - The Twilight Heron
Opera in One Act (Sung in Japanese)
OPERA HOUSE
---
---
<STAFF>

| | |
| --- | --- |
| Libretto by | : Junji Kinoshita |
| Music by | : Ikuma Dan |
| Artistic Director | : Kiyoshi Igarashi |
| Conductor | : Hiroaki Masuda |
| Stage Director | : Tamiya Kuriyama |
| Scenery | : Yukio Horio |
| Lighting Designer | : Jiro Katsushiba |
| Costume Designer | : Itsuko Ueda |
| Choreographer | : Tokuya Azuma |
| Assistant Stage Directors | : Kazumi Ito / Tatsuji Iwata |
| Stage Manager | : Hiroshi Osawa |
| Assistant Conductors | : Shunji Sakita / Kouji Moroyu |
| Orchestra | : Tokyo Philharmonic Orchestra |
| | |
| Presented by | : New National Theatre, Tokyo |
---
<CAST>

December, 2000

Saturday 2 & Tuesday 5

Sunday 3
Tsu
Yumiko Samejima
X
Hisara Sato
X
Yohyo
Makoto Tashiro
X
Yoji Hoshi
X
Unzu
Masato Makino
X
Hiroshi Kudo
X
Sodo
Naoki Ikeda
X
Katsuji Miura
X
Children Chorus
Suginami Children Chorus
X
X
---
<PERFORMANCES>

| | | | |
| --- | --- | --- | --- |
| December, 2000 | Saturday 2 | Sunday 3 | Tuesday 5 |
| 3:00pm | X | X | |
| 7:00pm | | | X |

Doors will open 60 minutes before the opening of the performance.
Talented music scholars and critics will present small lectures on this opera. They take place 45 minutes before the curtain time.
---
<ADVANCE TICKETS>
Available from Saturday 9 September, 2000 at 10:00am.
To order tickets, please call +81-3-5352-9999 (10:00am-6:00pm)
---
<TICKET PRICES>

| | | | | |
| --- | --- | --- | --- | --- |
| Type | Seat S | Seat A | Seat B | Seat C |
| Price | ¥12,600 | ¥9,450 | ¥6,300 | ¥3,150 |

Seat Z(¥1,500) is sold only on the performance day at the Box Office and a part of Ticket Pia Offices.
---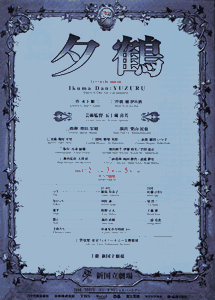 A moving masterpiece with its lyric beauty rooted in the Japanese climate and indefinable sorrow
Many of the Japanese folktales that have been told from generation to generation since ancient times are tinged with sadness. Among them, Tsuru-no-Ongaeshi (Requital by a Crane for Kindness), which depicts a contrast between a crane that loves with all its heart a person who saved its life and human beings that take advantage of such wholehearted love, is a story that moves one to tears. Yuzuru (The Twilight Heron), an adaptation for an opera of Junji Kinoshita's play based on this folk story, is not only a work that brought Ikuma Dan into prominence but it has also established itself as an opera representative of Japan since it was first performed in 1952.
Synopsis
A snowy village in ancient times. One day, Yohyo saves an injured heron. Out of gratitude for his kindness, the heron starts to live with Yohyo as his wife, Tsu, and gives him cloth, called Sembaori (cloth of thousand cranes), which is woven from her own feathers. Told by Unzu and Sodo that if he brings the cloth to the town and sells it there, he would be able to earn a huge sum of money, Yohyo urges Tsu to weave more cloth. Tsu becomes disappointed with Yohyo, who is obsessed with money, but she decides to weave more cloth in the belief that she would be able to regain Yohyo's heart if he gets more Sembaori cloth. Yohyo has been asked by Tsu never to look in on her while she is weaving cloth, but unable to restrain himself, he peeps into the room to see Tsu in the form of a heron weaving cloth. On the following day, Tsu, who has become very thin, gives Yohyo the Sembaori cloth, says farewell to him, and flies into the sky.