memorandum
THE PIT
---
<STAFF>

| | |
| --- | --- |
| Original plan and composition | : Dumb Type |
| Artistic Director and Visual Production | : Shiro Takatani |
| Music | : Ryoji Ikeda |
| Lighting Designer | : Takayuki Fujimoto |
| Visual Production | : Hiromasa Tomari |
| Assistant to Visual Production | : Richi Owaki |
| Set Designer | : Satoshi Ozaki |
| | |
| Produced by | : Dumb Type |
| Artistic Director, New National Theatre Tokyo | : Tamiya Kuriyama |
| Presented by | : New National Theatre, Tokyo |
---
<CAST>

| | | | | |
| --- | --- | --- | --- | --- |
| Takao Kawaguchi | | Hidekazu Maeda | | Seiko Ouchi |
| Noriko Sunayama | | Mayumi Tanaka | | Misako Yabuuchi |
---
<PERFORMANCES>

November to December,
2000
Mon.
27
Tue.
28
Wed.
29
Thr.
30
Fri.
1
Sat.
2
Sun.
3
Tue.
5
Wed.
6
matinée
2:00pm
1:00pm
1:00pm
2:00pm
evening
7:00pm
7:00pm
7:00pm
7:00pm
6:00pm
7:00pm
December, 2000
Thr.
7
Fri.
8
Sat.
9
Sun.
10
Tue.
12
Wed.
13
Thr.
14
Fri.
15
Sat.
16
matinée
1:00pm
1:00pm
2:00pm
1:00pm
evening
7:00pm
7:00pm
6:00pm
7:00pm
7:00pm
7:00pm

There will be no performances on Monday 4 and Monday 11.
Doors will open 45 minutes before the start of each performance.
---
<ADVANCE TICKETS>
Available from Monday 9 October, 2000 at 10:00am.
To order tickets, please call +81-3-5352-9999 (10:00am-6:00pm)
---
<TICKET PRICES>

| | | |
| --- | --- | --- |
| Type | Seat A | Seat B |
| Price | ¥4,200 | ¥3,150 |

Seat Z(¥1,500) is sold only on the performance day at the Box Office and a part of Ticket Pia Offices.
---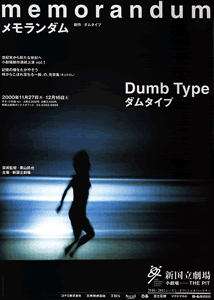 From the end of 20th to the opening of 21st century
"A Series of New Production for The Pit" Vol.1

Let us cultivate the field of our memory.
This is a collection of momentary scenes spilling out from time. -- Hisashi Inoue

Our conscious memory is a logically organized system to be located in our brain, but before this we have raw fragments of physical memories in the subconscious, which are the materials for the construction of this organized memory. "memorandum" is an effort to reconstruct these fragments in consciousness.
Dumb Type is a group of artists from various fields such as dance, music, visual art and architecture. They reprenset a new scope of contemporary art, which is difficult to categorise, and they draw on today's most advanced techniques. Though they are based in Kyoto, a city steeped in Japanese traditions, they mostly perform overseas, so this is a really rare chance to see them in action in Tokyo.

"memorandum", premiered in 1999 as the co-production of Haus der Kulturen der Welt-Berlin, Maison des Arts de Créteil, Festival d'Automne à Paris, Le Manège Scène Nationale de Maubeuge, Pilar de Yzaguirre-Ysarca Madrid, La Bâtie Festival de Gené and The Museum of Art-Kochi,Japan as well as special thanks to Institut Franco-Japanais du Kansai, will be reproduced this winter specially for the New National Theatre, Tokyo.

Please understand that there are scenes where the volume of the sound gets louder than the appropriate level to realize the best sound effects of the performance. You must be careful if you have heart trouble, especially when you wear pace makers.