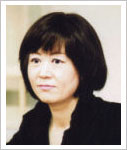 "How can we make plays more accessible? What are the people taking the trouble to visit the theatres looking for? What will be an interesting project to do next? What accomplishments can plays make? What do I want to create now?"
I have asked myself these questions, time and again, over the years.
While sincerely addressing each one of them once again, I would like to acquire more experiences steadily by holding programs one by one, on top of what I have gained through the 10 years since the opening.

To build the NNTT's brighter future, I sincerely ask for your support and guidance, thank you.