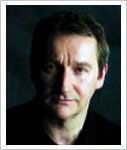 Dearest Japanese audience,


I am highly pleased and honoured to have been made the Artistic Advisor to the Ballet of the New National Theatre in preparation for assuming Directorship of the Company in 2010. I am very aware of the large role that Ms. Maki has played in recommending me as her successor and also of her terrific achievement of the past decade.

The Company, the National Ballet of Japan, is a fine ensemble, and a delight to work with. I very much hope that in the next few years, with the help of Ms. Maki that we can attain a steady improvement in all areas of the Company's life and begin to fulfill what I feel is the real potential of the Company.

Ms. Maki has assembled a repertory of extremely impressive and varied works, which challenge both the dancers and their audience and I very much hope to continue this policy. I wish to retain the very best of the Company's achievements thus far, and to add works that are satisfying both artistically and intellectually, whilst stimulating the appetite for ballet in Tokyo and beyond.

I am very much looking forward to having a new and deeper association with Japanese audiences who love the art of ballet.