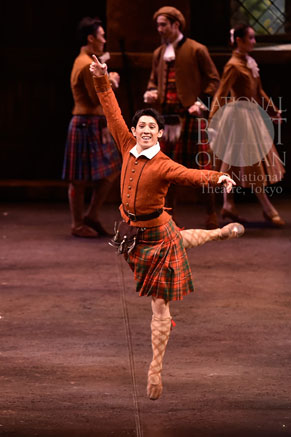 KINOSHITA Yoshito was born in Kyoto prefecture. He began his ballet training under TERADA Hiroyasu at Terada Ballet Art School and attended the Kiev State Ballet School.
He won third prize at the Serge Lifar International Ballet Competition (Senior Level) in 2006 and trained at Donetsk Ballet under the direction of Vadim PISAREV.
After his career with the Thuringen Ballet, Leipzig Ballet and Salzburg Ballet as Soloist, he joined the National Ballet of Japan as First Artist in 2015 and was promoted to Soloist in the following year.
Repertoire with NBJ includes
MAKI Asami's productions:

The Nutcracker

(China)
OHARA Noriko's productions: Ballet for Children

Swan Lake

(Jester)
Alexei FADEECHEV's production:

Don Quixote

(Two Gypsies)
Peter DARRELL:

Tales of Hoffmann

(Friends of Hoffmann)
Wayne EAGLING's production:

The Sleeping Beauty

(Gold)

Men Y Men



David BINTLEY:

Aladdin

(Friends of Aladdin, Onyx and Pearls)
August BOURNONVILLE:

La Sylphide

(Gurn)
Kenneth MACMILLAN:

Romeo and Juliet

(Mercutio)