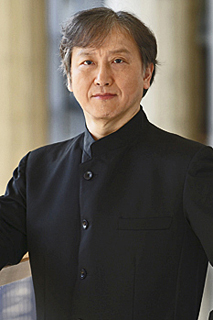 With the 2017/2018 Season, the New National Theatre, Tokyo enters its twentieth year. I would like to take this opportunity to express my sincere thanks for your strong support of the Theatre to date.
This Season is my last as Artistic Director. In the lead-up to our twentieth year, we have been staging Wagner's "Der Ring des Nibelungen" tetralogy for the past three years, and this year are finally bringing this grand tale to its conclusion with our new production of the fourth work, "Götterdämmerung". As with the past three productions, it too is overseen by the famous German producer, Götz FRIEDRICH. Furthermore, Stephen GOULD, who has charmed our audiences for these past three years in his performances of the principal tenor roles of Loge in "Das Rheingold" and Siegmund in "Die Walküre", plays the title role this year in "Siegfried". He will also appear as Siegfried in the work that forms the real kernel of the Ring cycle, "Götterdämmerung". Please look forward to an awe-inspiring denouement at the New National Theatre, Tokyo, brought to you by the world class Wagnerian singers Petra LANG, Albert PESENDORFER, and Waltraud MEIER.
Also, in a most happy development and in answer to everyone's wishes, Toshio HOSOKAWA's "Matsukaze" is to have its first performance in Japan at the New National Theatre, Tokyo. The production will be that staged by director and choreographer Sasha WALTZ for the work's first, and lauded, performance at the Théâtre Royal de la Monnaie. The composer's intention with this new form of work was to fuse dance and opera, and WALTZ's rendition of it could not be more appropriate.
Beethoven's only opera, "Fidelio", is a remarkable work that expresses the deepest spirituality and the loftiest ideals, and there is a tradition of it being performed at epoch-making junctures and on important commemorative occasions. It is therefore a most fitting work for our twentieth anniversary and will be directed anew by Katharina WAGNER, who has been in the spotlight in recent years and is the director of the Bayreuth Festival. The production features the powerful pairing of Ricarda MERBETH as Leonore and Stephen GOULD as Florestan.
Vincent BOUSSARD's beautiful and highly regarded production of "La traviata" will be returning to the stage for everyone's pleasure. And in "Der Rosenkavalier", the supremely popular Daniela SINDRAM will be making her first appearance as Octavian. "Die Fledermaus" will feature the now familiar cast exuding the air of Vienna. The four villainous roles in "Les Contes d'Hoffmann" are played by Tomasz KONIECZNY. Nemorino in "L'Elisir d'Amore" is played by Saimir PIRGU, one of the world's most prominent lyric tenors. RIM Sae-Kyung and Najmiddin MAVLYANOV play Aida and Radames in "Aida". Catherine NAGLESTAD has the title role in "Tosca". These prominent singers who have conquered the opera world will each grace the stage of the Opera House of the New National Theatre, Tokyo for the first time throughout the coming Season. We trust you will enjoy this popular repertoire presented at the Theatre this season, with its line-up of top class performers.
All of us at the Theatre are looking forward to seeing you for a flamboyant 2017/2018 Season in keeping with our twentieth anniversary.
Profile of IIMORI Taijiro (Artistic Director of Opera)
Born in 1940. Graduated from the Music Department (Conductor Course) of Toho Gakuen College of Drama and Music in 1962. Made his first appearance in 1961 with the Fujiwara Opera Company in Suor Angelica. Won fourth place at the Dimitri Mitropoulos International Music Competition for Conductors (1966) and the Herbert von Karajan International Conducting Competition (1969). In 1972, he won the Minister of Education Award for Fine Arts Best Newcomer and the Prize for Best Conductor of the Season at the Barcelona Gran Theatro del Liceu. From 1972-76, he was the conductor of the Yomiuri Nippon Symphony Orchestra, and from 1970 the Musical Assistant at the Bayreuth Music Festival and participated in a number of historical performances. He has appeared as conductor at opera houses in Bremen, Mannheim, Hamburg and Regensburg. After becoming Principal Conductor of the Opera Forum Enschede, he became the conductor of the Enschede City Conservatory Orchestra from 1979 to 1995. From 1993 to 1998, he was resident conductor at the Nagoya Philharmonic Orchestra. In 1997, he became resident conductor at the Tokyo City Philharmonic Orchestra, and became Honorary Conductor Laureate from April 2012.From 2001 to 2010, he was resident conductor of the Kansai Philharmonic Orchestra, and its Honorary Conductor Laureate from 2011.
He is a member of the Japan Art Academy since 2014, and was appointed as the Artistic Director of Opera at the New National Theatre, Tokyo in September 2014.
Awards
2001 32nd Suntory Music Award
2004 54th Minister of Education Award for Fine Arts
2004 Medal with Purple Ribbon from the Japanese government
2008 43rd Osaka Municipal Award
2010 Order of the Rising Sun, Gold Rays with Rosette
2015 56th Mainichi Art Awards (music division)
His appearances as conductor at the New National Theatre, Tokyo
2000 "Bluebeard's Castle"
2008 "Ariadne auf Naxos" (Regional Tour)
2012 "Eine florentinische Tragödie" "L'heure espagnole" (NNT Opera Studio)
2014 "Parsifal"
2015 "The Flying Dutchman" "Das Rheingold"
2016 "Lohengrin" "Die Walküre" "Siegfried"
He is scheduled to conduct,
2017 "Götterdämmerung"
2018 "Fidelio"